Samsung unveils new R1 multimedia player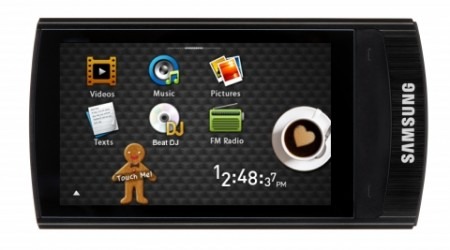 Samsung has unveiled a new multimedia player called the R1 that boasts some nice specifications that media fans will appreciate. The R1 is hailed as the slimmest and lightest multimedia player around that is compatible with DivX.
DivX compatibility means that users can transfer most media files without needing to convert them. The R1 is only 8.9mm thick and weighs 50g. Samsung says that the device is thin and light enough that users can carry it around inside their wallet.
Despite its small size the device sports a 2.6-inch touchscreen and uses the Samsung exclusive TouchWiz user interface. Loading music and other files onto the device is a drag and drop proposition and the R1 uses Samsung's DNEs 3.0 sound engine for natural sound processing.
The device also features a Beat DJ feature that allows the user to add their own voice and sound effects to their favorite songs and users can scratch records on the screen to create personalized music. Samsung will offer the R1 with 8GB or 16GB of storage and it will launch in Europe in September with other markets to follow later.