Samsung unveils new high-performance 512GB SSD with SATA Revision 3.0 interface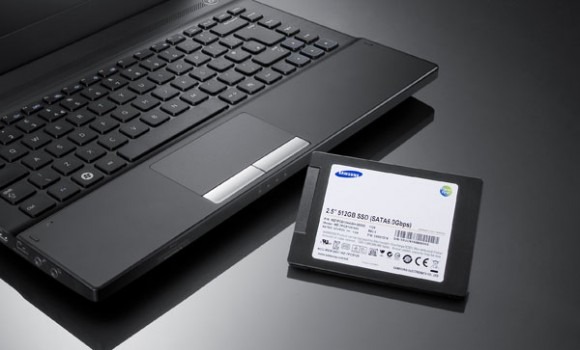 Samsung has rolled out a new SSD that uses the fast SATA Revision 3 interface good for 6Gb/s of data throughput. The SSD is model number PM830 and it comes in capacities up to 512GB. Samsung is aiming the new SSD at ultra-slim notebooks and tablets. The PM830 SSDs began sample production back in May and are now in volume production. That means we should start seeing the SSDs in devices soon.
Samsung expects that the new PM830 SSD will replace SATA 3Gb/s SSDs by the end of 2011. According to Samsung, the new SSD with the 6Gb/s interface shortens boot time to about ten seconds. The drive also has enough performance to allow the user to download up to five DVD video files in under a minute. The 512GB SSD uses Samsungs most advanced 20nm class 32-gigabit MLC NAND memory chip inside with a toggle DDR interface and a proprietary NAND controller.
The SSD promises sequential read speeds of up to 500MB/s with sequential write speeds of 350MB/s. The SSD also has security features to protect your data with AES 256-bit encryption. Other than the 512GB capacity SSD Samsung will also offer the drive in 256GB and 128GB versions and all three capacities will be offered for OEM notebooks and tablets.