Samsung Unveils Media-Focused Ivy Bridge Laptops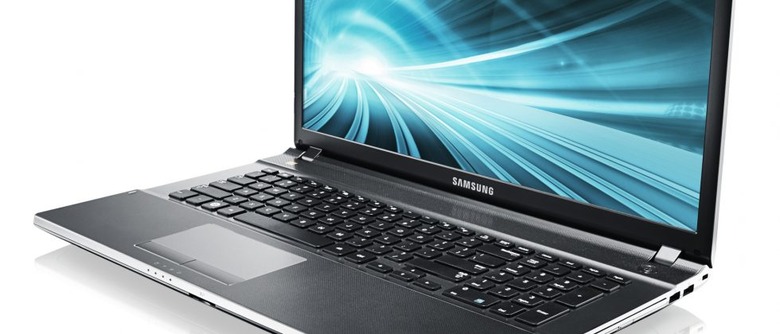 Ultrabooks are all the rage, but when you need something with a little more capability, there's nothing like a laptop that's large and in charge. Breaking from their mostly thin-and-light lineup thus far this year, Samsung has revealed multiple entries into the Series 5 family under the 550 P label. These Ivy Bridge models come in 15 and 17-inch varieties, with a collection of media-focused optional features like Blu-ray drives and high-end discrete graphics cards.
In the UK the 15-inch versions will be given the model numbers NP550P5C-A02UK and NP550P5C-S03UK. Both have identical 1366x768 screens, 8GB of memory, DVD-RW drives and 5200mAh 6-cell batteries. The more expensive S03UK is equipped with an NVIDIA GT 650M graphics card. The 15-inchers have an admirable thickness of 1.11 inches. The 17-inch NP550P7C-S02UK steps things up with a Core i7 3610QM processor, a 12.3-inch 1600x900 screen, a Blu-ray drive and the GT 650M to boot.
All three models feature JBL speakers with a Mac Bass Boost subwoofer, promising better sound that the usual tinny laptop fare. Expansion options weren't mentioned, but a shot of the laptop's side reveals two USB 3.0 ports and HDMI-out. Storage options include hard drives up to 2TB, though Samsung is being mum on which models will get which drives. Samsung plans to launch the Series 5 550 P models in the UK later this month, though they haven't said a peep on price thus far. There's no word on other markets.