Samsung unveils designs for its new, upcoming devices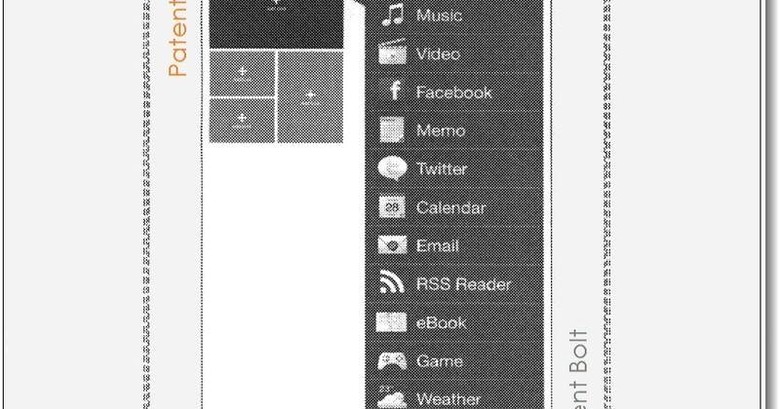 Here's a sneak peak at a few devices Samsung has planned for us. Samsung has been granted 7 new design patents for several smartphones and 3D glasses. Samsung had also recently been granted patents that showed that the Samsung Galaxy S IV will have 3D-capable camera technology integrated into it. The included pictures below show 4 new devices that Samsung plans on releasing, one of which is supposed to be a Windows 8 device.
The design above looks like it could possibly represent an upcoming Windows 8 device. According to Patent Bolt, the design looks like it supports Windows "tile" interface. But for all we know, it could be a Samsung Galaxy Tab 3 7-inch device. Another design shows what appears to be a Samsung phone that will lack both physical and capacitive buttons. It will instead utilize on-screen buttons like the LG Nexus 4 or the Samsung Galaxy Nexus. In the same picture, there is another Samsung device that looks like it will have 4 physical (or capactive) buttons, giving users who hate on-screen buttons another option to choose from. It looks like it will go for the classic Android approach, and have menu, home, back, and search buttons.
One image seems to represent a Windows Phone 8 device as well. The button layout slightly reminds me of the old T-Mobile HTC HD2. The menu and search button are both grouped up in one bar, while the Home and Back buttons are on their own separate islands. However, Samsung could just be testing out a new design for an Android phone, or maybe it's one of the upcoming Tizen handsets its planning on releasing this year. In the same picture is Samsung's new design for its 3D glasses.
Judging from these designs, it looks like Samsung is looking to stray away from the the "home button" design featured on the Samsung Galaxy S III, and Samsung Galaxy Note devices. These phones will all most likely fall under the low-tier to mid-tier categories, because it wouldn't make sense for Samsung to release high-end devices so quickly after the Samsung Galaxy S IV launches. Once we get the details and specs for these devices, we'll give you an update.
[via Patent Bolt]