Samsung Unveils Curved Soundbar To Go With Your Curved TV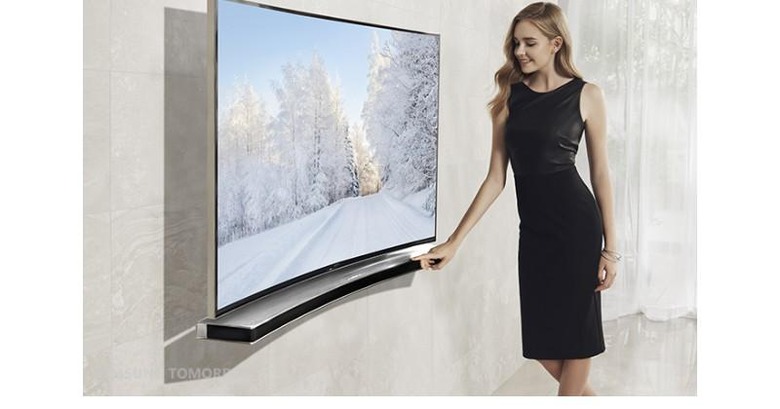 You may have a brand new shiny Samsung curved TV, but those flat speakers flanking it just breaks the spell of the TVs alluring curves. Luckily for you, Samsung has just announced a new Soundbar that will complement that TV with its own curves and can even take the place of the TV stand. Continuing the audio theme, the company is also outing the M3, the latest of its "Shape" wireless multiroom speakers, poised to be the smaller and cheaper of its two other siblings.
The most distinctive feature of the HW-H7500 and the HW-H7501 TV-Matching Curved Soundbars is, of course, their shape. Designed with the same 4,200 mm curvature that Samsung seems to swear by, these audio equipment are indeed designed to match Samsung 55 and 65 inch Curved UHD TVs lines. They match so much that the soundbars can actually replace the curved stands these TVs use, utilizing the same stand's holes for mounting.
The soundbars aren't designed just to look good but to also sound good, Samsung claims. There are two additional speakers on both sides of the bar, blasting audio in three directions all once for an even better surround experience. TV integration is also a snap as the soundbar's features can easily be controlled with the same remote control that the TV uses, Simply hook the two via the TV SoundConnect feature and you're good to go.
For those without curved TVs that want to give their home audio a bit of personality, there is the new M3 Wireless Audio Multiroom speaker to fill that need as well. Like the M5 and M7 before it, this speaker sports the same "wedge" shape as the other two. It is, however, smaller and therefore easier to sneak into places that the others can't, without compromising quality. It is also supposedly more affordable, though Samsung hasn't yet revealed that price tag.
It may just do so, however, at IFA 2014 this week, where both audio equipment will be up for public display and scrutiny. In addition to the audio devices, Samsung will also be unveiling a new level in its relationship with Spotify, which earlier brought the streaming service to the M7 speakers. The extended team up will see the ability to play Spotify on more than two Multiroom speakers at once, something Samsung bills as a first for the service.
SOURCE: Samsung