Samsung unveils 2012 Blu-ray players with WiFi and Disc to Digital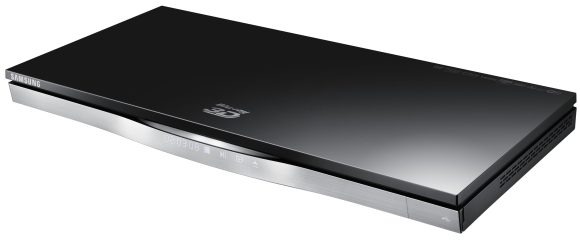 Samsung today announced two new Blu-ray players, the BD-E6500 and the BD-ES6000, at CES 2012. The company introduced a new feature for the players called Disc to Digital and also added WiFi capabilities to the flagship BD-E6500 model, allowing the player to connect directly to other devices over a WiFi network without the need for a PC or other central access point.
The BD-E6500 comes in a sleek low-profile design and offers two HDMI inputs, allowing you to connect a game console or set-top box to the player that then connects to the TV via only one HDMI output. It's capable of playing 3D Blu-ray Discs and supports Full HD 1080p video playback. But most notably is the built-in WiFi and full web browser that lets you access web-based content and to connect to other WiFi devices.
The BD-ES6000 lacks the 3D and WiFi capabilities of the BD-E6500, but it features a very compact design with a footprint that's just slightly larger than a disc. It also supports Samsung's new Disc to Digital feature that allows users to register physical DVDs that get copied to users' UltraViolet collection and can then be accessed from multiple devices. The content is made available through the Flixster app in Samsung's Smart Hub.