Samsung unveiled 40nm class DRAM chips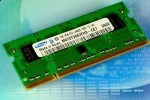 It seems like yesterday we read about Samsung achievement in high density and power efficient 50 nanometer memory chip; today, the company have announced another milestone with improved 40 nanometer DRAM memory technology, and promised to deliver 60 percent more productivity and less energy waste than the 50nm class device.
The thinner circuitry chip is a 1GB memory component and is configurable in a 1GB 800 Mbps DDR small outline DRAM inline memory module for laptops. Samsung said it has been certified to use with the Intel GM45 series Express mobile chipsets.
Lower nanometer memory chips allows the device to operate at cooler temperature. In the case of the 40 nm class memory, the voltage is further reduced to consume 30 percent less power in comparing to the 50 nm class.
Samsung is currently working on a 40nm 2Gb DDR3 version with expected mass production by the end of 2009. Similar class but cheaper DDR2 memory chips will ship next year.