Samsung UN55D8000 55-Inch 1080p 240Hz 3D LED Smart TV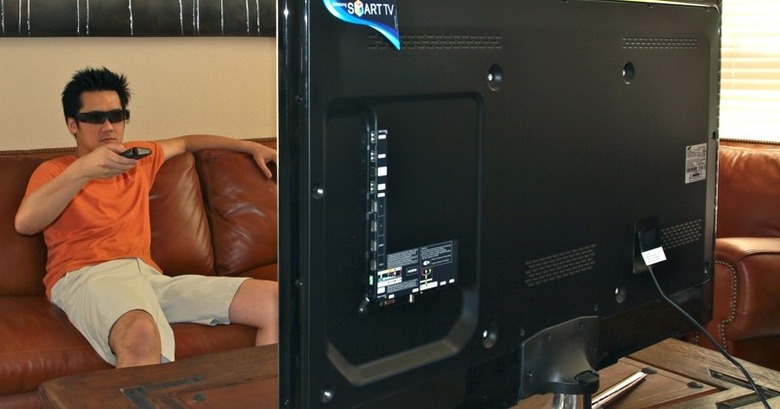 Ever since CES back in January, we've been hearing that 2011 will be "the year of 3D." Happily, Samsung isn't focusing entirely on the third-dimension with its new D8000 Series HDTVs: the 55-inch UN55D8000 also promises superlative 2D performance and Smart TV functionality including network streaming, all wrapped up in a wafer-thin bezel. Still, with a list price of $3,599.99, the D8000 will have to deliver in spades to justify the cost. Check out how this 3D behemoth copes in the full SlashGear review.
Hardware
At 55-inches, the UN55D8000 isn't exactly going to blend into the background unless you live in an aircraft hanger. Still, Samsung has done some solid work producing one of the more attractively minimal designs we've seen to-date. The brushed stainless steel bezel is a scant 0.2-inches thick, and the splay-legged "Quad Stand" looks like melted metal that has poured from under the screen. The panel section itself is a mere 1.2-inches thick, though you should probably arrange for some help to position it as, at 41 lbs with the stand attached, it's not exactly lightweight.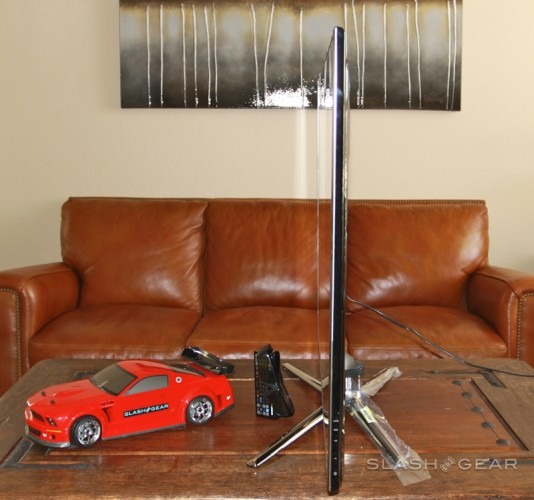 Of course, what's really important is the LCD panel itself, a huge slab of 1080p Full HD capable LCD TFT with a 240Hz refreshes rate, 3D support, and Samsung's Micro Dimming Plus technology. The latter is a compromise between traditional edge-lit displays and true local-dimming backlighting (where different sections of the backlight array can be turned on or off independently behind different areas of the screen), using LED lighting along the sides which can, Samsung claims, be more localized than normal. That allows for the Cinema Black feature, which automatically spots any letter-box bars and dims the backlighting behind them, so as to make them less obvious.
There's also LED Motion Plus and Auto Motion Plus, which combine together to phase the backlighting in horizontal bars that parallel the LCD refresh scanning. In fact, the D8000's menus are full of options to tweak the picture, including Shadow Detail – which decreases the global dimming to improve black levels in low-light areas – and various 3D-related settings to reduce ghosting and cross-talk.
Connectivity includes four HDMI inputs, three USB ports, component and composite inputs, a D-sub PC input, 3.5mm audio input, optical digital output and a 3.5mm headphone socket. Networking is catered for with both ethernet and integrated WiFi. There's obviously an ATSC/Clear QAM tuner, too. Because of the skinniness of the set, Samsung hasn't had room to fit side-mounted inputs, so plugging in USB drives or camcorders is a little more tedious than it could be.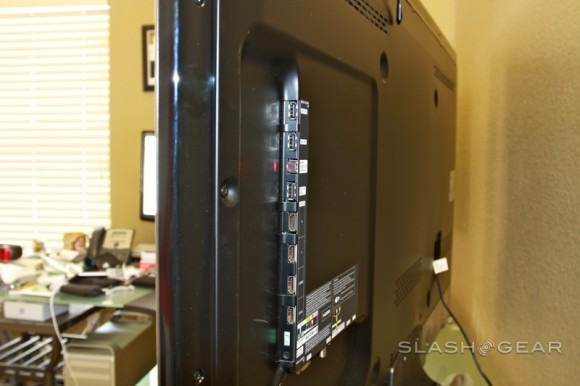 Samsung throws two pairs of its new 2011 series SSG-3100GB active-shutter 3D glasses into the box which shift the battery from the hinge sections to the tips of the arms for better balance (additional glasses are $49.99).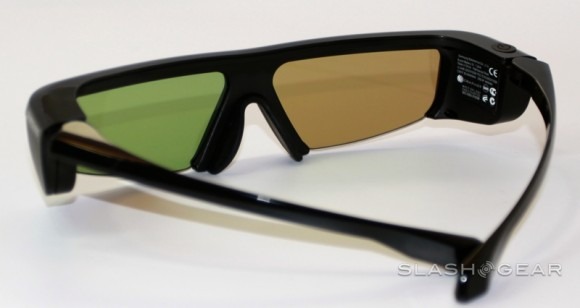 More interesting is the remote control, a double-sided affair that has regular controls on one side and a QWERTY keypad on the other. There's even a tiny, single-line monochrome display so that you can type without needing to look up at the D8000. If you have other Samsung A/V kit (and assuming it's fairly recent) you can use the company's Anynet+ technology to control everything HDMI linked with that one, single remote.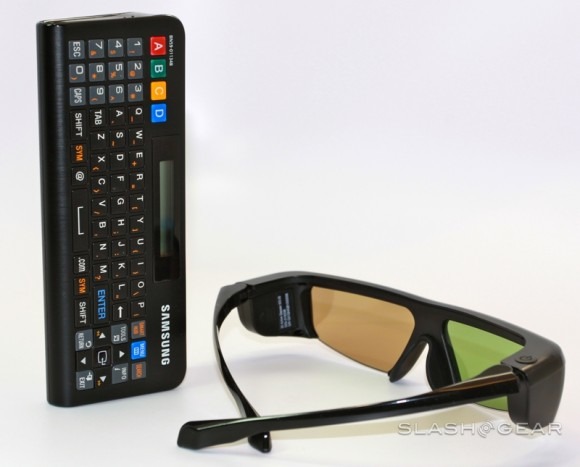 Software
It may seem strange to have a software section for a TV, but as a smart TV the D8000 does plenty more than just show you what your TiVo is playing. Samsung has opted for its own, in-house Smart Hub system – rather than, say, Google TV – which has seen a fair few iterative updates since it first debuted a few years back. Now, Smart Hub includes Samsung Apps, with more than 200 paid and free apps to download direct to the TV; Your Video, which can make VOD recommendations based on your viewing history; Search, which uses the QWERTY remote to search Google, Facebook, YouTube, Samsung Apps and other sources; and a Web Browser for full internet access.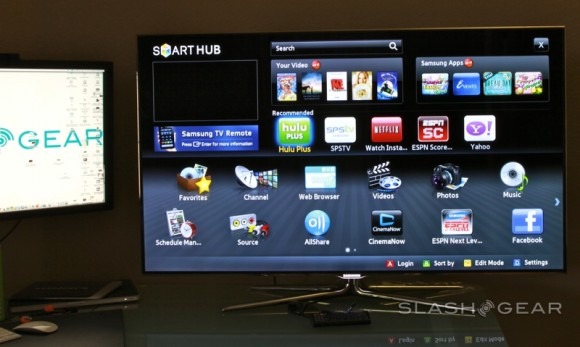 There's also AllShare DLNA streaming support, just as we've seen on Samsung's recent Galaxy range of tablets and smartphones, and Skype support with the optional Smart TV CY-STC1100 camera. That promises 720p HD 30fps video chat, though it was not included with our review system. If you have a Galaxy device, Samsung offers a remote control app in its own download store, which turns the phone or slate into a replacement remote control complete with QWERTY text input (that takes advantage of Android's voice recognition and text auto-correction, too). An imminent update will add the ability to stream video from the D8000 to the Galaxy device; right now, you can use AllShare to browse content stored on the Galaxy from the TV.
Samsung Smart Hub can be pretty confusing at first glance, with a screen full of icons. Up top is the search bar along with Samsung Apps and recommended titles, while underneath is a side-scrolling menu of links to Favorites, channels, the program guide, videos/photos/music, AllShare, the browser, Twitter and more. It's reasonably intuitive to control, though it would've been useful to have a motion-sensing remote like some LG TVs offer.
Performance is reasonably swift, though there can be lag when you search or access network features. The included remote is generally faster than using a Galaxy tablet – sometimes we hit the back button twice, thinking it hadn't been recognized the first time, only to be thrown out of the menu we were using – though on the plus side you do get a trackpad-style control on the slate for the browser mouse pointer. Sites render pretty much as you'd expect from a computer.
Content can be streamed from Netflix, Blockbuster, Hulu Plus and other sources – assuming you have the right subscriptions – while there's Pandora streaming music too. The DLNA worked well, as long as it liked the formats our content was encoded in; hooking up a USB drive direct gave broader compatibility. Samsung also includes copies of Megamind 3D, Shrek 3D, Shrek 2 3D, Shrek the Third 3D and Shrek Forever After 3D, all on Blu-ray, as part of its 3D starter kit.
Performance
With a list price of $3,600, you'd expect the D8000 to put in a good showing when it comes to picture quality. Happily the Samsung doesn't disappoint. 2D content is crisp, clean and beautiful, with inky blacks and vivid, well-saturated colors. Although Samsung's various processing settings tempt playing with the video, we found most of the time things looked better when left relatively untampered. The quality of your source media makes a big difference too; standard definition content could end up looking over-processed with plenty of artifacts after Motion Plus had done its best to keep things smooth. There's some blurring with the very fastest of sports, but less than we've seen on many other LCD TVs.
3D, meanwhile, is eye-opening in its clarity. With Samsung's new lightweight glasses the images pop and there's little blurring to be seen. Samsung gives easy access to the depth perception settings with the 3D Viewpoint option in the main menu, though there's still a little crosstalk evident. Color can sometimes get lost in the 3D process, but not so on the D8000, and brightness was still strong despite the active-shutter technology. This is some of the best 3D TV we've seen, and Samsung's lightweight glasses certainly help for longer-term comfort in extended viewing.
Audio is catered for with two 15W speakers that are mounted at the lower back of the D8000. Unsurprisingly – given the size constraints – they're not exactly going to blow the Samsung off its stand, though they're fair for general TV playback. Frankly, however, buying a high-end 3D TV like the D8000 and not hooking it up to a decent A/V system – preferably with surround sound – would be a crime.
Wrap-Up
There's no doubting that $3,500 is a lot to pay for a TV. Samsung has at least attempted to sweeten the deal as much as possible by making the UN55D8000 more than just a dumb screen. The Smart Hub functionality is genuinely useful in places, and while we can't really see ourselves Tweeting from our TV, the YouTube and other streaming service access works well. The integration with Samsung's Galaxy range of smartphones and tablets is also clever, and when the updated app arrives with streaming support from the D8000 that will be particularly useful.
Even so, we couldn't recommend the D8000 if it didn't deliver on picture quality, and thankfully the Samsung is one of the best screens around today. Neither 2D or 3D mode feels like an afterthought, and even if you're not convinced by the third-dimension today, you're getting a brilliant 2D 1080p set for your money. Take into account that the D8000's street price is near $650 under list, and that's a whole lot of high-performance pixels for what seems like an increasingly competitive figure. If your wallet can accommodate it, the Samsung UN55D8000 is unlikely to disappoint.
Samsung UN55D8000 55-Inch 1080p 240Hz 3D LED Smart TV hands-on walkthrough