Samsung UHD F9000 Series TV Upscales Everything To 4K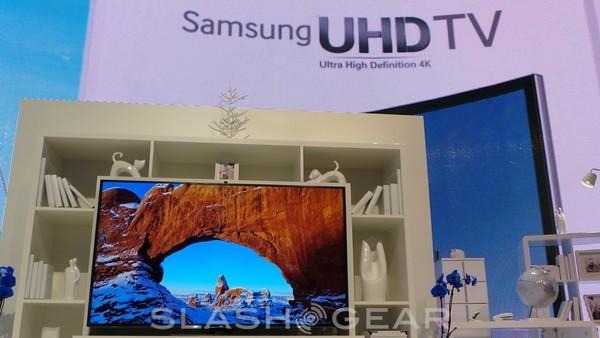 Samsung has wrapped up its big press conference at IFA 2013 and during the conference it unveiled some very interesting new TVs. One of those new TVs is the Samsung UHD F9000 series TV supporting ultra HD resolution. As most of you know, ultra HD has four times the resolution of standard 1080p full HD resolution.
The new F9000 series televisions use what Samsung calls an unrivaled LED panel process. The process is able to provide viewers with crisp detail, optimal color, and optimal contrast control by Samsung's Quadmatic Picture Engine. That special picture engine is able to upscale all content on the fly.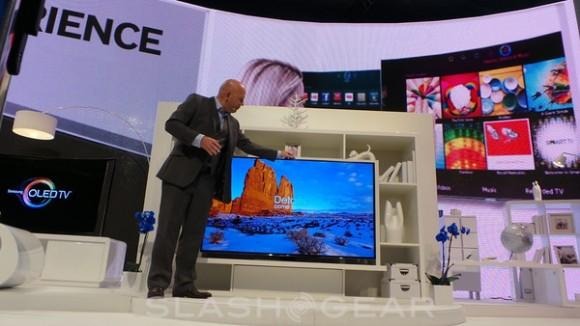 What that means is despite the fact that there is very little to choose from in 4K from Hollywood or major television networks in UHD resolution right now, the TV can upscale anything from any source connect to it. Samsung says whether the content you're watching originally aired in standard definition, HD, or full HD resolution the Quadmatic Picture Engine is able to take that source image, eliminate visual noise, improve detail and sharpness, and turn it into UHD resolution.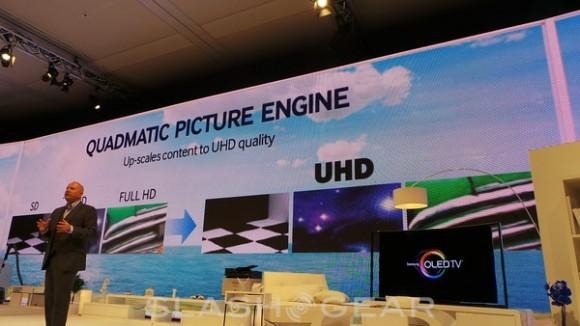 That special picture engine and all the other features of the Samsung UHD F9000 series TVs lead to unrivaled brightness, contrast, and real UHD resolution. F9000 TVs have a minimalist design with a very narrow bezel, a metal stand, and metallic finish. The design of the TV hides the integrated speaker and subwoofer out of view and provides 70 W of sound. Samsung also equips the TV with its One Connect Box to remove cable clutter by aggregating connectors from all media players in a hidden location.
Other features of the TV series include the Samsung Smart Hub that is able to turn the screen of the TV into a social media hub. The TV also features Samsung's S Recommendation engine that suggests TV shows and movies the user might enjoy based on their tastes and viewing history. The TV also features a twin tuner, integrated camera, video chat capability, and the ability to share content with other devices the touch of a button. Pricing and availability on these TVs is unannounced this time.
SOURCE: Samsung