Samsung UD590 aims to make UHD 4K mainstream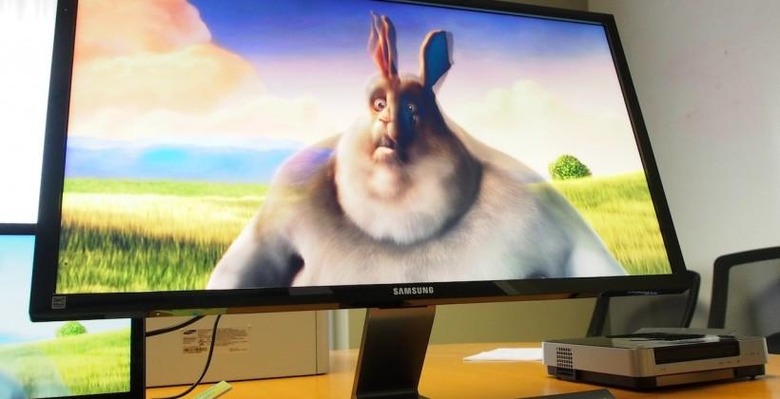 Samsung has announced a set of new LCD monitors for 2014, including the flagship UD590 with UHD 4K resolution for a whopping 3840 x 2160 desktop. The 28-inch UD590 is also joined by new Series 3 and Series 5 screens, each with Full HD resolution, and Samsung's new style language.
Cheapest is the Series 3 SD390, available in 23.6- and 27-inch versions. They use 1920 x 1080 PLS – Samsung's version of IPS – panels, the smaller running at 250 cd/m2 brightness, while the larger manages 300 cd/m2. Each has HDMI (two on the smaller, one on the larger), along with audio-out, and use Samsung's new Touch of Color finish with a transparent stand that'll be available in either black with blue highlights, or white with indigo highlights.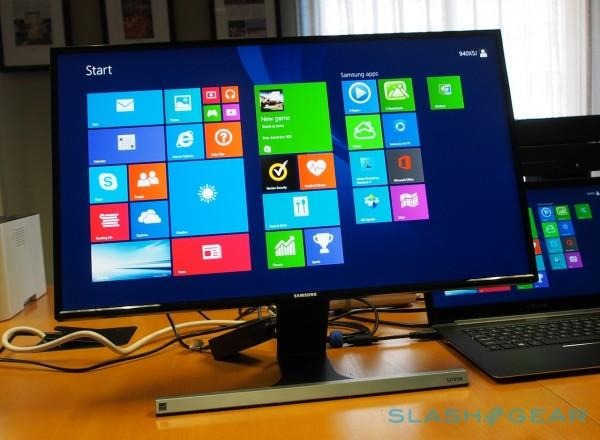 They'll be priced at $249.99 and $309.99 respectively, though Samsung says street pricing will be more akin to $249 and $179 respectively.
As for the midrange Series 5 SD590, that too comes in the same 23.6- and 27-inch sizes, with the same brightness, viewing angles, 16.7m colors, and resolution as the Series 3. However, they get two HDMI inputs as standard across the range, along with audio-out, and they also get significantly slimmed-down bezels versus last year's Series 5 – 10mm thinner, in fact.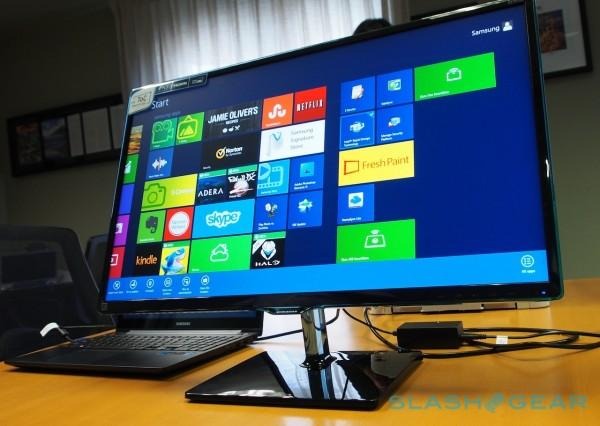 There's also a new T-shaped stand, which minimizes the desk footprint and leaves space, Samsung suggested to us, for speakers. The Series 5 SD590 will go on sale in April, alongside the Series 3, priced at $269.99 and $329.99 for the 23.6- and 27-inch respectively ($199 and $279 street).
It's the Samsung UD590 (U28D590D) which is most interesting, however, given its 4K resolution. Samsung has had to opt for a TN panel rather than PLS, which means some loss in viewing angles when you're looking at the display from significantly above or below it, but from our short time with the display, front-on and from the sides it's still impressive.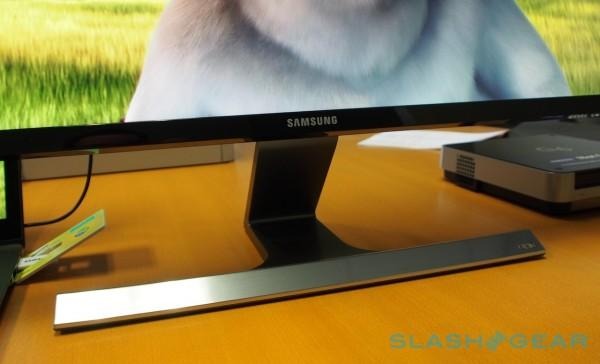 Samsung says it supports one billion colors, and has a 370 cd/m2 brightness. Ports include two HDMI and one DisplayPort – the UD590 can also upscale regular content to 4K – and there's an audio output for external speakers. Picture-in-Picture is joined by Picture-and-Picture, where two separate inputs can be shown side-by-side simultaneously.
The UD590 is available for preorder now, with an MRSP of $699.99 but a street price expected to be more like $599.99.
Update: An earlier version of this story reported DisplayPort on the Series 3 and Series 5 monitors, which Samsung now tells us was a mistake on its spec-sheets. The SD590 and SD390 are HDMI-only.