Samsung U9500 Curved 105" and U9B Bendable 85" UHD TVs arriving this year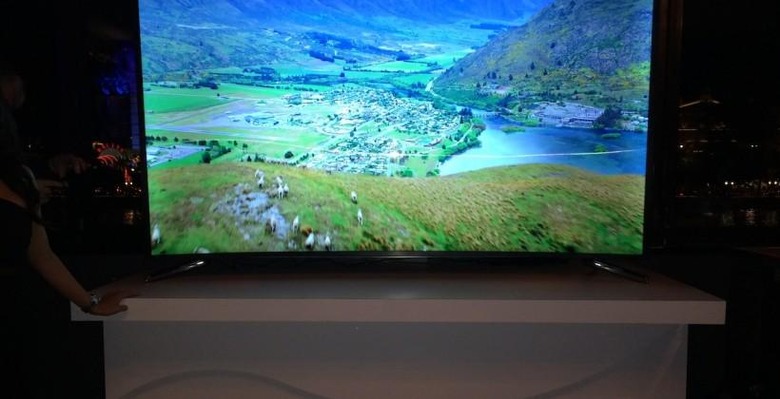 Today at CES, Samsung officially announced its U9500 105-inch curved Ultra HD television's availability dates, as well as that of the smaller, yet no less stunning, U9B 85-inch bendable Ultra HD television. We went eyes-on with the TVs on Monday, which you can check out for a roster of snazzy pictures. The televisions will be available in the second half of this year, specific dates yet unspecified.
The U9500 in particular holds a couple titles, namely that it is the world's first — and largest — curved Ultra HD television. With this unit comes a 21 x 9 aspect ratio, the same used by movie theaters, also making this the largest display — and first curved — display with such measurements. There's Auto Depth Enhancer technology onboard to provide depth to the picture, adding to the curved element and massive size to produce an all-around impressive device.
The Samsung U9B is of a similar nature, though it boasts a "bending" ability — functionality that allows it to be transformed from a flat panel to a curved television by pressing a button. This provides a couple different viewing option for owners, allowing them to choose the idea setup for their current viewing habits. The TVs come with Samsung UHD Evolution Kit, as well, making them "future ready".
Samsung's Executive Vice President of the Visual Display Business HS Kim said: "Given the tremendous media and industry reception for these new products, we are excited to bring our 105" Curved UHD TV and 85" Bendable UHD TV to consumers around the world. People who are passionate about entertainment will have a whole new way to experience the content they love with these exciting new models that showcase exceptional design and UHD picture quality."