Samsung throws NX100 into the wild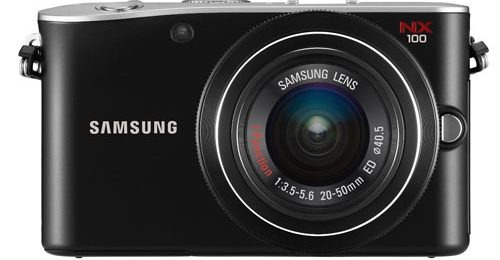 Samsung has tossed a new camera onto the market today called the NX100. The new camera is an interesting new mirrorless offering with the first i-Funciton lens offering a new way to control the camera. The camera claims to be the first mirrorless cam in the world to use an APS-C size sensor. The camera also has a 3-inch AMOLED screen on the rear.
Samsung says that the design of the NX100 is based on that of dew forming on a leaf; I see nothing leaf-like in the design. The i-function lens communicates with the camera body to give the user total manual image control and provide customized settings specific to the lens being used on the camera. The NX100 also records 720p HD movies. Samsung will offer multiple lenses with a 20-55mm lens at launch and other lenses are coming later like a 20mm wide-angle pancake lens. Other lenses will be launching next year including a zoom lens and a macro lens.
The image sensor in the camera is a 14.6MP unit, ISO range is 100-3200, and the camera has a wide range of shooting modes and scene modes. Measurements are 120.5 x 71 x 34.5mm and it weighs 282g minus the battery and memory card. The NX100 can geotag images with an optional GPS module. Pricing and availability are not announced at this time.