Samsung's exquisite The Frame TV is available today: Here's the price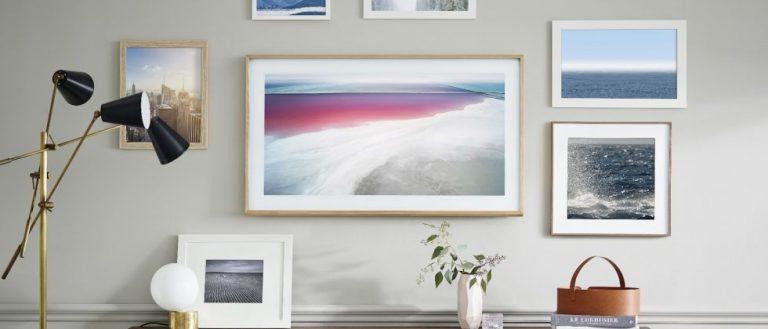 Of all the TVs in Samsung's flagship line-up for 2017, one model stands out head and shoulders above the rest. The Frame might have a strange name, but its combination of wafer-thin display technology and picture-frame styling make for a TV that most of the time doesn't look like a TV. Indeed, the idea is that you can hang it on your wall and tell people it's actually fancy artwork.
Samsung showed us The Frame back in March, describing it unusually as "a lifestyle TV." Designed in collaboration with Yves Behar – who has also worked on the Ouya Android games console, and August's smart door lock – it has interchangeable bezels that can be switched out to suit the room's decor. It's also designed both for wall-mounting and to be free-standing, with an optional "studio stand" for the latter configuration.
Either way, only a single cable is required. Samsung has branded it the "Invisible Connection", and it's basically a wafer-thin optical cord. Indeed, it's so flat that it can be painted over if you're wall-mounting the TV.
As with the other flagship 2017 sets, there's a 4K panel at the heart of the TV. However, unlike the other models, Samsung includes an Art Mode on The Frame. When not being watched normally, it can show a cycle of artwork, picked from the "Samsung Collection".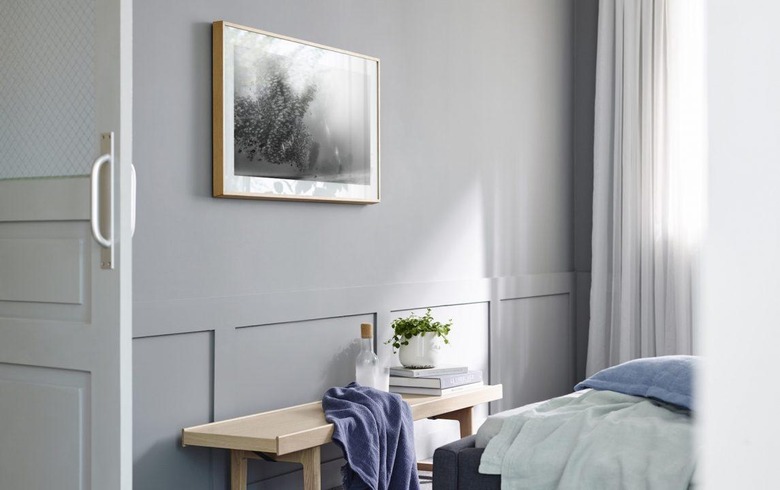 100 professional works will be available to choose from at launch, spanning 37 artists and photographers. The list includes talent from across the globe, organized into ten genres – such as landscapes, wildlife, urban abstract, and "From Above" – but there'll also be a store from which new artwork can be purchased and downloaded. That will start out with 100+ pieces, from both established and upcoming artists, and will be curated by several international organizations, galleries and museums, including Artspace, LUMAS, Magnum Photos, Saatchi Art and Sedition. Finally, there'll be the option to upload your own choice of content to show in Art Mode.
If all that sounds appealing, you'll be able to buy The Frame from today. Samsung will offer two sizes initially: a 55-inch, which will be $1,999, and a 65-inch, which comes in at $2,799. Replacement bezels will be offered in various different finishes, including real walnut wood, white, and beige. For the smaller set, they'll be $199.99, while for the larger they'll be $249.99.
As for fresh art, individual pieces will be $19.99. Alternatively, owners will be able to subscribe to the full collection, which will cost $4.99 per month. Samsung says it plans to regularly add to the selection.
Update: An earlier version of this article reported that The Frame is a QLED set. In fact, it doesn't use Samsung's new QLED technology, and is part of the company's regular 4K range.