Samsung Super-WriteMaster SHS203 - The fastest burner in the world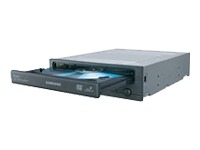 I've been a bit disappointed in the lack of drives that utilize the SATA ports. Sure, there are plenty of hard disks, but what about optical drives? Sure, you could argue that most wouldn't take advantage of the increased bandwidth of SATA, and you'd probably be right. However, if you're looking for a DVD burner that can blow away the competition and you're looking to free yourself from ATA forever, check out what Samsung has to offer.
The Samsung Super-WriteMaster SH-S203n (am I the only one that thinks having the words Super and Master in the title are a bit redundant?) is being called the fastest in the world. With 20x DVD burning and 16x dual layer burning, I'd say that it's earned that title. If you're wondering what to do with all of that time you save, you could always etch a label into the disc using the LightScribe feature.
If you do a lot of DVD burning, it might be worth it to consider upgrading. The SH-S203N is on sale now for $79.99.
Samsung Super-WriteMaster SH-S203 [via coolestgadgets]