Samsung Super-WriteMaster SH-S223 22x DVD burner is 'industry's fastest'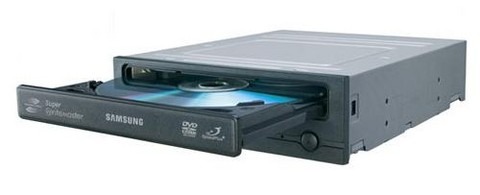 Samsung have, for the moment at least, taken the title of "industry's fastest DVD burner" with their Super-WriteMaster SH-S223 drive.  Capable of writing to all DVD formats, the SH-S223 burns at 22x speed to DVD±R media, 12x to DVD-RAM, 16x to DVD+R dual layer, 12x DVD-R dual layer, 8x DVD+RW and 6x DVD-RW.  Over-speed burning means that discs rated for 16x can be safely used at 22x speeds, and 8x media at 12x speeds.
Connecting via SATA, the SH-S223 can produce a full 4.7GB DVD±R disc in approximately 4 minutes and 26 seconds, which Samsung claim is a 6-percent increase in speed over a 20x burner.  Meanwhile, DVD-RAM discs are burnt 30-percent faster, in less than 12 minutes.
Samsung have also fitted the full gamut of optical drive tweaks, including Speed Adjustment Technology, Tilt Actuator Compensation, Double Optimum Power Control and Buffer Under Run Free Technology for stable discs despite the high burn rates, as well as Magic Speed and Automatic Ball Balancing System to reduce noise.
The Super-WriteMaster SH-S223 is shipping now, with software to burn video, photo and data discs included as well as live firmware auto-updates.