Samsung STORY Station is first external HDD to meet new standby power rules for Europe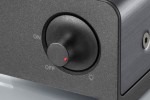 We first heard of the Samsung STORY Station back in April when the external storage solution first debuted. Samsung has now announced that the storage solution is the first to offer reduced standby power levels and meet the coming European Union EuP Directive for Standby Regulation due to go into effect in January 2010.
To meet the guidelines Samsung decreased the standby power needs of the STORY Station from 2.5W to 0.09W, a decrease of 95%. Samsung claims that its external HDD is the first product to meet the guidelines.
Samsung was able to meet the guidelines by adopting a new circuit structure making the drive non-operational when the power cable is connected and the USB port is not. The STORY Station line is already available globally in capacities form 500GB to 2TB. Drives with the new power saving feature will start shipping in early November.