Samsung SSD T1 review; a pocketable powerhouse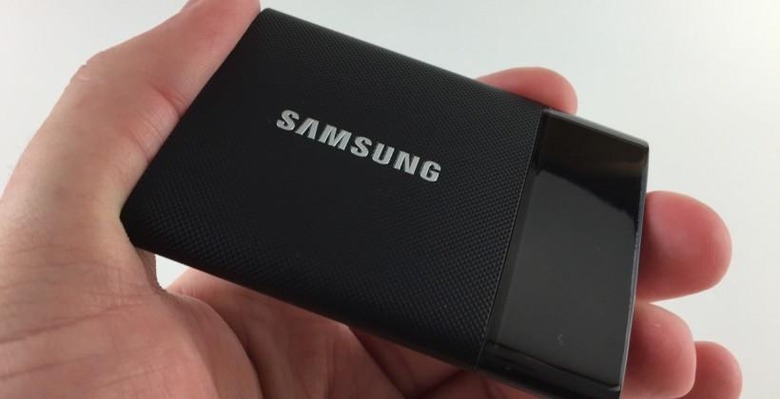 Hard drives are standard fare for any desktop user, but spinning mechanical drives are quickly ceding ground to SSD. For many reasons (better life, performance, and smaller sizing among them), we are looking to SSD as the future of file storage. At CES, Samsung caused quite a ruckus, with many people looking toward their new SSD T1 external hard drive for reason to be excited. An SSD is always welcome news, and the T1 is surprisingly small. Is it still powerful, though? We put it to the test.
Size
There's no clever way to put it, so I'll just state the obvious: the SSD T1 is tiny. At 53.2 x 71.0 x 9.2 mm, the SSD T1 is certainly miniscule. To better illustrate that point, I took pics next to an iPhone 5S and Galaxy S5. It's easily a drive — maybe the first — that you can drop in a bag or pocket and not realize you're carrying it.
The rounded corners make it better for handling, and much better at not scratching other stuff you might have in a bag with it. What you don't get a feel for is low light it is. At only 24 grams (we tested the 250GB model; the 500GB and 1TB models both weight 26 grams), it feels as though nothing is there.
More to the point, it feels like Samsung could go even smaller. The housing is plastic, and doesn't feel cheap or as if it's lacking, but it also feels hollow. SSDs are usually in 1-inch or 1.8-inch form factors, and if that were the case here, Samsung could likely go a bit smaller. They don't need to, though.
Security
The Samsung SSD T1 isn't quite plug-and-play. When you first use it, you'll need to give it a name, and you can also give it a password. Once the set-up process is complete, you can use the SSD T1 as you like.
The feature benefit of running Samsung's setup gamut is better protection, where a password earns you 256-bit AES encryption. Even better, Samsung promises no reduction in performance with encryption as the T1 uses hardware-based tools.

Performance
Small and sexy, the SSD T1 is also a really solid performer. Samsung wisely built a USB 3.0 port into the top for faster file transfer; standard among many modern external drives.
As you can see below, we tested the SSD T1 with Blackmagic Disk Speed Test for OS X. It's quick, no doubt about it. Samsung says the sequential read/write time for the SSD T1 is 450MB/s, and while we didn't quite hit that benchmark routinely — we got very close.
Samsung's quick read/write times are partly due to the inherent properties of an SSD, which has no spinning disks. Samsung also has their proprietary TurboWrite technology, and supports the USB Attached SCSI Protocol on all their SSDs.
An ideal read/write rate for USB 3.0 is 500 MB/s, according to Samsung. If that were the top end of what the connection were able to achieve, Samsung has quickly begun testing its limits.
To illustrate how much faster it was versus what you might be using for file transfer, we also ran tests using an HDD external drive (using the SSD T1's cord for a level playing field), as well as a USB flash drive and SD card. Samsung says the SSD T1 is "up to 3.5x faster than an external HDD." As you can see in the tests, that's an accurate claim.
Conclusion
The drive we tested was the lowest capacity T1 Samsung offers. For a 250GB drive, $179.99 is a lot of cash. The 500GB drive is $299.99, and the 1TB version will set you back $599.99. Samsung has all drives available for pre-order, and plans to start shipping them January 25th.
These drives aren't impulse buys, they're file transferring beasts. For the average consumer, there's little argument to be made for the SSD T1. It's expensive, and likely overkill for casual use.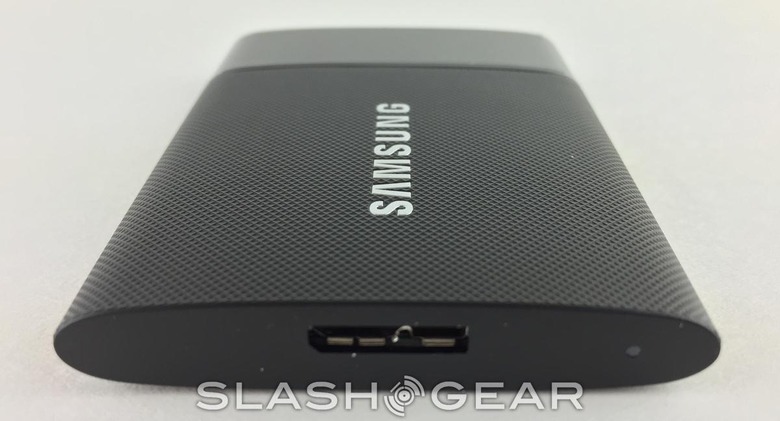 If you need to transfer large files from one place to another, the Samsung SSD T1 is your best option, hands down. Even a very new HDD drive can't keep pace with the tiny powerhouse that is the SSD T1.
The pricing of SSD will drop over time, that much is certain. If you're not itching to but a new external drive, I can't say you should spend so much for one. The SSD T1 isn't priced for mass adoption, either. Still, if you fit into the category of someone who transfers large (or a lot of) files — and needs to do so quickly — it's hard to argue that you shouldn't drop some extra cash on an SSD T1 versus an HDD.