Samsung SP-F10M 1,000 ANSI LED projector is world's first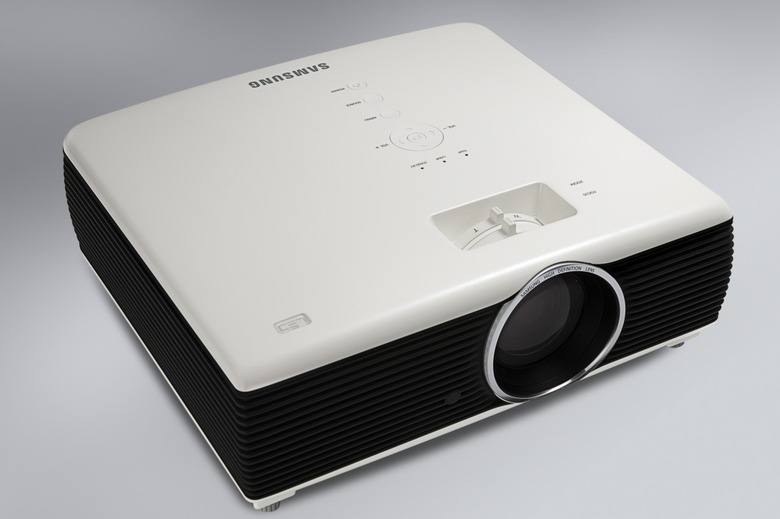 Samsung have announced a new projector, the SP-F10M, which at 1,000 ANSI lumens is the industry's first LED-based projector to hit the 1k mark.  Intended more for business and educational use – though we'd quite like one for the home, just so we don't have to replace bulbs any more – the SP-F10M has a USB port and onboard software that recognizes and plays various common office file types.
That means you can load up your presentation on a thumb-drive rather than have to hook up your laptop.  Samsung reckon the LED light source will last for 30,000 hours – enough for 20 years use based on four active hours per day – and thanks to the brightness level you don't have to be in pitch black to use it.
We're hoping the title of Samsung's press release – the projector is described as "groindbreaking" – is a title, just for the sake of our crotches, but otherwise what's not to love.  No word on pricing or availability at present.
Press Release:
Samsung Expands Category With Groindbreaking 1,000 ANSI Lumen LED Data Projector

Seoul (Korea Newswire) February 3, 2010 — Samsung Electronics Co., Ltd, a global leader in digital media and digital convergence technologies, announced today that it will be showcasing its LED data projectors – the 30 ANSI lumen pico-projector (Samsung H03) and the 1,000 ANSI lumen LED-based data projector (Samsung SP-F10M) – at Integrated Systems Europe (ISE) 2010. Samsung can be found at Hall 11 Stand K38.

Showcased at CES 2010, the Samsung H03 attracted great attention for its tiny, palm-sized design and stunning performance. The tiny projector gives professional and personal users a highly portable means of projecting images, whether they be family photos or corporate presentations. Weighing less than 200 grams, it is capable of running for up to two hours without recharge, enough to watch a full-length movie or use during a meeting.

The H03 supports Microsoft Office and PDF formats for display without accessories, meaning users can confidently open PDF or Microsoft Office files. Presenters can deliver their information in environments of varying brightness with the projector's 30 ANSI lumens. Despite its ultra-small size, the device supports connectivity to USB, PC and composites, as well as extensibility for incorporated memory and microSD cards. It requires very little maintenance; the projector's LED lamp does not require replacement, consumes less power and guarantees a lifespan of up to 30,000 hours.

Industry's First 1,000 ANSI Lumen LED-Based Data Projector

ISE 2010 visitors will be able to see the industry's first LED data projector with 1,000 ANSI lumens. Compared with existing LED projectors – most of which are rated at 200 ANSI lumens – Samsung's new LED projector allows users to deliver a presentation and view a much brighter display, supporting easier reading conditions and less eye-strain. The SP-F10M has an LED light source that guarantees a lifespan of up to 30,000 hours, equivalent to 20 years, based on four hours of use per day, with no need for lamp replacement.

The SP-F10M offers a selection of unique data projector features ideal for helping busy professionals host effective and compelling meetings. With the PC-free File Viewer feature users can present Microsoft Office and PDF files in their native file format via a USB port, thereby increasing efficiency and familiarity.

Furthermore, Samsung's LED data projector brings advanced technology for unparalleled brightness. With its latest projector technology, the company is committed to expanding its market leadership with its LED-based pocket and data projectors.

"At Samsung, we pride ourselves on a leadership position in the LED marketplace and that technology is a driving force in the development of this product which offers considerable brightness and color intensity advantages, in addition to reduced environmental impact and TCO," said JinHwan Kim, vice president of the Visual Display Business at Samsung Electronics. "Utilizing the latest technologies from the world's best suppliers, coupled with our own R&D, has led to this truly game-changing product."

LED Light Source Provides a Range of Advantages

From an environmental standpoint, eliminating the conventional halogen bulb, which contains mercury filaments, dramatically reduces the negative environmental effects associated with their disposal. These disposal costs also contribute to total cost of ownership (TCO).

The LED also maintains its brightness compared to other projectors that lose up to 50 percent over the life of the bulb. The greater color intensity and wide color gamut allows for a more flexible projector, which can be used on a blackboard or green board, in addition to whiteboards and screens, thereby opening it up to educational and governmental environments.

The reduced decibel level and power-up time provided by the LED light source also add to the appeal of the SP-F10M.

Design Innovations Unique to Samsung

Samsung continues to craft innovative products designed to perform at the highest levels, and the projector line is no exception. The SP-F10M comes equipped with PC-free File Viewer, which allows presenters to work directly from a USB memory stick on Microsoft® Office and Adobe® PDF documents in their native file format.

A closed captioning feature also adds to the product's versatility.