Samsung SNE-50K e-book reader announced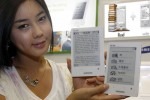 Samsung announced the SNE-50K today, an e-book reader that is intended for the South Korean market. This reader measures in at 5-inches and is capable of taking notes on as well as acting as an e-book viewer.
The screen has a 600 x 800 resolution and the device contains 512MB of built-in memory. Apparently, a version of this same device will be shown at CES next year, but South Korea is the initial target market.
It can also display PDF files and Microsoft Office documents. You can view 4320 pages on a single battery charge and it weights just 6.5 ounces. It will cost about $274, but a release date is not yet known.