How iTunes content and AirPlay 2 came to Samsung TVs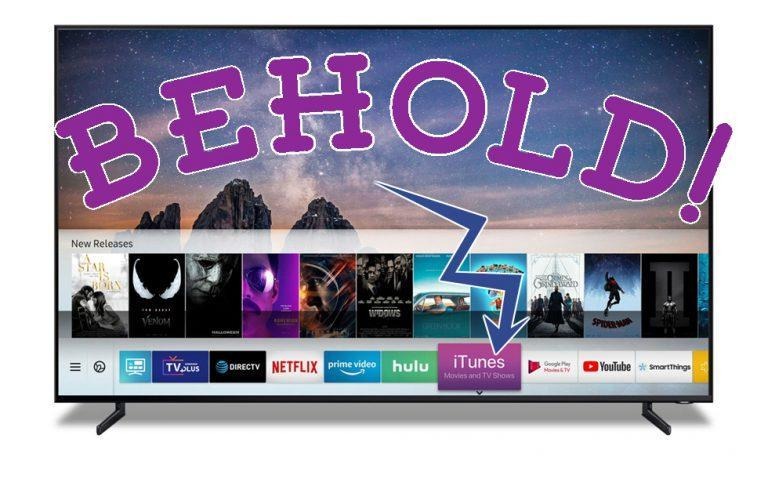 The folks behind the latest round of Samsung Smart TVs seem to have reached an agreement with Apple to bring a whole lot of content to their sets this Spring. News this morning is that Samsung Smart TVs will launch iTunes Movies and TV Shows starting in Spring of 2019. They'll also be bringing support for AirPlay 2 starting at around the same time.
Samsung suggested that they'd be bringing iTunes Movies and iTunes TV Shows and Apple AirPlay 2 support specifically on 2019 Samsung Smart TV models – starting this spring. That's quite specific. UPDATE: Samsung also notes that they'll be bringing support to Samsung Smart TVs from 2018 as well – that'll be made a reality with a firmware update, presumably at around the same time as 2019 Samsung Smart TVs are released in stores.
"Bringing more content, value and open platform functionality to Samsung TV owners and Apple customers through iTunes and AirPlay is ideal for everyone," said Won-Jin Lee, Executive Vice President, Service Business of Visual Display at Samsung Electronics.
AirPlay 2 support will be appearing on Samsung Smart TVs in 190 countries around the world. Samsung is basically saying yes, everyone, or nearly everyone, you can have AirPlay 2, just as soon as we're ready to bring it. AirPlay 2 will work with the following:
Samsung Smart TVs getting iTunes Content:
• 2018/2019 QLED 4K TVs
• 2018/2019 8K TVs
• 2018/2019 The Frame lifestyle TV
• 2018/2019 Serif lifestyle TV
• Some additional Samsung UHD and HD models from 2018/2019 seasons
Meanwhile Samsung stated: "In an industry first, a new iTunes Movies and TV Shows app will debut only on Samsung Smart TVs in more than 100 countries."
With Samsung Smart TV support, iTunes Movies and TV Shows will be able to be searched with Bixby and with the TV's Search function. This is to "create a consistent experience across Samsung's platform," said Samsung.
"We look forward to bringing the iTunes and AirPlay 2 experience to even more customers around the world through Samsung Smart TVs, so iPhone, iPad and Mac users have yet another way to enjoy all their favorite content on the biggest screen in their home," said Eddy Cue, senior vice president of Internet Software and Services at Apple.