Samsung Smart Touch Control revealed and detailed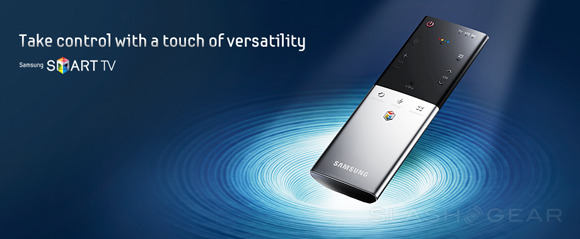 Samsung has officially dropped details on its upcoming 2012 upgrade to the Smart TV world with its Samsung Smart Touch Control, complete with touchpad, Edge, and voice control. This controller will work with Samsung's entire 2012 range of Smart TV units including the ES8000 which will be the first to be working with this remote's voice recognition engine. Other than that, Samsung TVs, set-top box, and Blu-ray players will all function well with this magic stick.
Touchpad Control
The first and most apparent feature you're going to experience here is the touchpad, it taking up the top 2/5 of the device and allowing you to move forward with the touch controls you've gotten so used to in this forward-thinking mobile environment. You'll be able to change channels and adjust the volume on your set with a simple swipe of the touchpad, and on-screen browsing will be much easier as the touchpad works as a mouse. Your finger is now the mouse pointer rather than the rather evil point to move we've seen from similar sets in the past.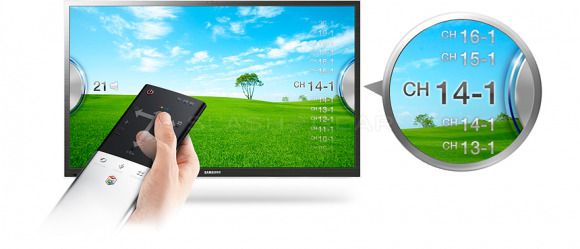 Edge UI
Next is the Edge User Interface, this allowing you to access any of the four main control menus with your touchpad by swiping your finger out to the edge. These four menus are Color/playback, Tools, Hot Key, and History. Your Hot Key aka Short Cut will bring you a programmable action, while the rest should be pretty self-explanatory for you Smart TV users. No need to look at the remote any longer!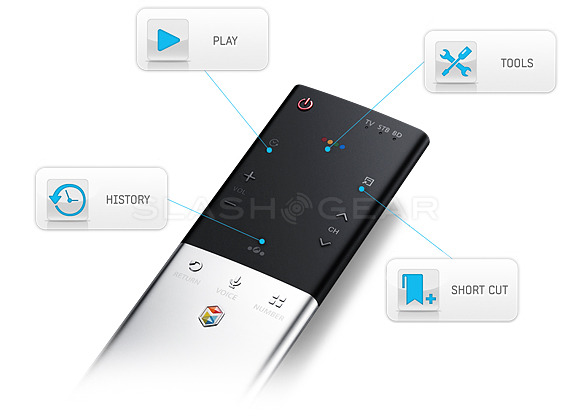 Voice Control
With the newest Samsung Smart TV units, you'll be able to use the Smart Touch Control's built-in microphone to tell your television what to do. You'll be able to access your apps, switch channels, and navigate compatible services galore. This system should prove to be rather intuitive as voice recognition and control advances to new heights in our very voice-activated modern world.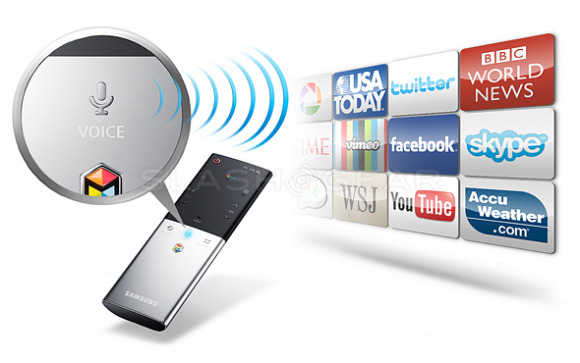 Multi-device Control
Finally you'll be able to cut down on the number of control units you'll need – just so long as you've got all Samsung devices, that is. The Smart Touch Control can be programmed to run with your DVD player and a whole mess of other home entertainment appliances. Your device choosing widget can be found under your Hot Key on the remote, each of your devices then switched quickly and with great ease on-screen. One remote to rule them all.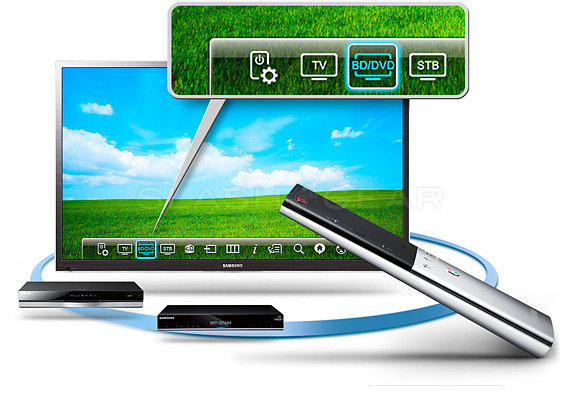 Pricing and availability for this remote control have not been finalized, but don't be surprised if we see it within a month around the world. Smart TV 2012 continues on with great fervor. Samsung is bringing the Smart heat in TV!