Samsung Series 9 SB971 Monitor Brings Quad HD To The Masses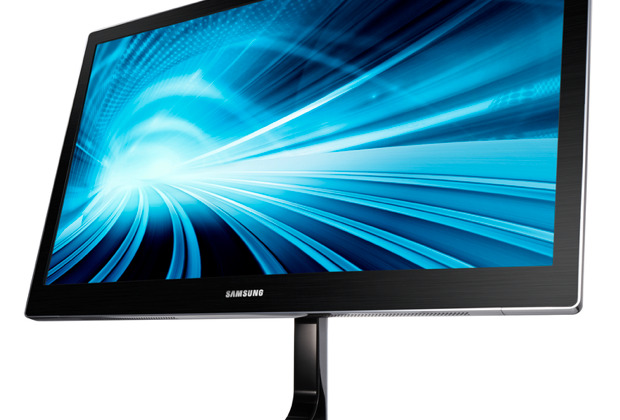 Not to be outdone by the rest of the high definition display-making brands revealing units this season, Samsung has this week revealed their Series 9 monitor SB971 working with a 27-inch 2560 x 1440 pixel panel. This machine joins the recently announced Series 9 SC770 touch monitor and Series 9 SC750 rotating monitor to create a set of screens made to fill any users stand-alone unit needs.
The Samsung Series 9 SB971 brings on a feature set made ready for use by those that crave the best in color, sharpness, and wide viewing angles. Samsung suggested this week that this monitor is ready for photo enthusiasts and "graphic artists" – aka artists of all kinds and graphic designers from all angles – with hand-calibrated color delivery. With an LED PLS panel up front at 16:9 aspect ration and 178 degrees of viewing angle both up and down and left and right, this machine is ready to take on the needs of a gamer just as well as a designer.
This device works with a 5ms response time (GTG) and a brightness of up to 300cd/m2 in High Bright Mode or 220cd/m2 in Standard Mode. Speakers on this unit include 7Wx2ch – loud enough for your high-action entertainment needs – while the color of the unit comes in Black and Metal Silver (that's one combination.)
Ports include DisplayPort, DVI-GL, and HDMI (including MHL support). This means you can plug in anything from your Windows 8 PC to your Android smartphone, just so long as you've got the right converter (in the case of MHL, that is).
This whole package sits on a round stand made to tilt and adjust height for comfort in use no matter the location of the device in a workplace or home. The design of the stand with the monitor is what Samsung describes as "floating" – we'll see how it all looks up close and personal soon enough. This unit will begin to be available this fall at an MSRP of $1,199.99 – and it might show up at IFA 2013. Stay tuned!