Samsung SE-B18AB Portable DVD Writer Slot Loads To Save Space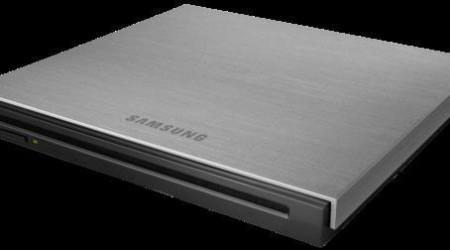 Samsung has announced a new portable DVD writer designed for users of ultraportable and notebook computers that don't have internal DVD drives. The new Samsung portable DVD writer is called the SE-B18AB. It has a metallic finished surface that looks like brushed aluminum to match with many of the notebook computers on the market today.
Samsung designed the new portable DVD drive with a slot loading design to help save space. The slot load means that there is no tray for users have to deal with when using the drive on the go. The drive will load a CD or DVD automatically when it is placed in the slot.
It also has a button that will eject the disc automatically. The drive is designed to be very power efficient and can be operated from a single USB port providing power and connectivity for the optical drive. The drive also takes advantage of the Samsung AV Connectivity tool allowing it to be used as a portable data storage device when connected to the computer.
Samsung uses standard DVD format technology on the SE-B18AB making it able to use existing optical disc archive technologies and normal discs. The drive will work on both Mac and Windows computers. Pricing and availability details are unknown at this time.
SOURCE: Samsung