Samsung SDI takes second place in OLED shipments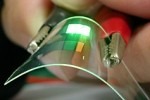 Samsung SDI has slipped into second place for worldwide OLED shipments, with rival RiTdisplay forging ahead with 36-percent of the Q3 2008 market share.  However, despite 10-percent less of the market, Samsung SDI still managed to make more money out of their business, thanks to the higher selling price of the AMOLED panels that make up much of its business.  Overall, Q3 2008 saw 1.7m OLED panels shipped in total, up 60-percent on the same period last year.
As might be expected, the market for OLED has been evolving alongside the developing technology.  Monochrome PMOLED (Passive Matrix OLED) sales were down, falling from favor in cellphone sub-displays, although stronger demand for area color and full-color PMOLED panels pushed up the average OLED selling price for the quarter.  Worldwide OLED revenue for the three month period was $141m, down 11-percent compared to Q2 2008.
OLED production is still predominantly controlled by five key companies, including RiTdisplay, Samsung SDI, TDK (with 17-percent market share), Pioneer (with 12-percent) and Univision (with 4.4-percent).  Samsung SDI will merge with Samsung Electronics' small/medium business to form Samsung Mobile Display in January 2009.