Samsung says "no plans" for Galaxy Tab 7.7 and Galaxy Note in the US [Updated]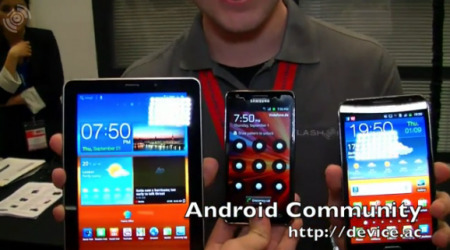 Our man Chris Davies wrote earlier this week that the carriers might kill the Galaxy Tab 7.7 thanks to the fact that the tablet has voice calling capability. Davies reckons that the carriers in the US won't appreciate that voice calling feature because it might make some users cancel that smartphone plan rather than having both smartphone and tablet plans. I would be willing to bet that Samsung shopped the Tab 7.7 and the Note around to carriers in the US and found no takers.
Updated with Samsung comment after the cut.
Davies figured the tablet would end up in the States, but it might come with no voice service. It looks like Samsung has opted to simply not offer the Note and Tab 7.7 in America at all. A Samsung rep has confirmed to GottaBeMobile that the company has "no plans" to sell either tablet in America. It wouldn't be the first time that an official statement turned out to be false so we can only wait and see.
The tablets not coming makes sense, Samsung other tablets aren't exactly blowing up the sales charts in the States. Samsung may just be picking where the tablets will sell and that will be Europe where carriers will let the tablet have its voice service. You can check put some of our other coverage of the new tablets here.
Update: Looks like someone at Samsung wasn't quite clear. We've just spoken to the company, which said "Samsung has not yet announced availability for any part of the world. Those will be coming at a later date." It looks like no decisions have been made – or, at least, no decisions that Samsung wants to talk about today – on where will get the Note and Tab 7.7, and where might not.
[via Android Community]