Samsung Rugby 4 flip phone to launch at AT&T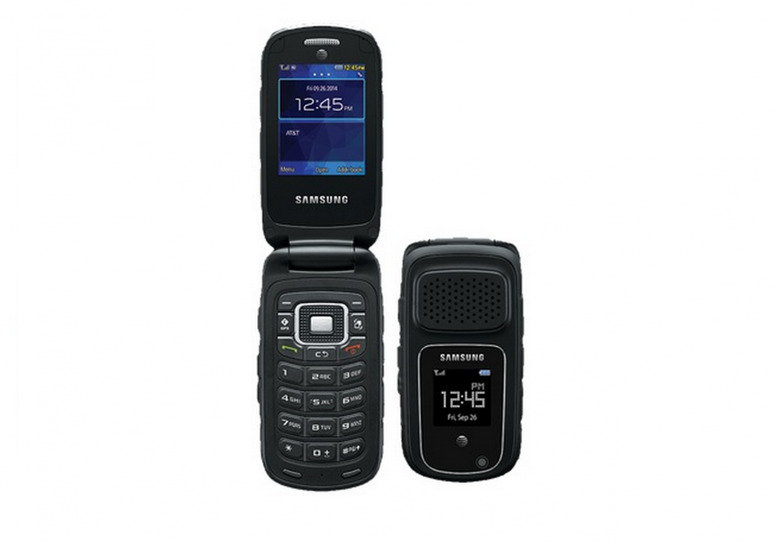 The world is full of smartphones, and while durable options exist, many find the good ol' flip phone to be a better option. Not all flip phones are durable, of course, but the Samsung Rugby 4 is, at least according to AT&T, which will be launching the phone soon and in preparation posted a slapdash "stress test" video. The push-to-talk phone will launch this coming Friday, October 10, bringing with it a construction that meets military standards, as well as things like an integrated compass and WiFi.
The phone features AT&T's Enhanced Push-to-Talk with an integrated dispatch service, says the carrier, and runs on its 4G HSPA+ network. There's WiFi, as mentioned, as well as boosted speaker volume for making sure you can hear the handset while out and about.
Those who are particularly concerned with battery life will be able to get a 2,000 mAh battery for extending the run time on a charge. This feature is joined by turn-by-turn directions, courtesy of the integrated compass, as well as an IP67 protection rating for durability in harsh environments.
The phone will be available for outright purchase at $269.99 USD, for $99.99 USD with a two-year contract. Once it launches and through the end of the year, qualified customers will be able to get it for $0.99 with a contract, however. The phone will be available both online and in retail stores.
SOURCE: AT&T