Samsung Releases iPhone 4S Vs Galaxy S II Product Spec Sheet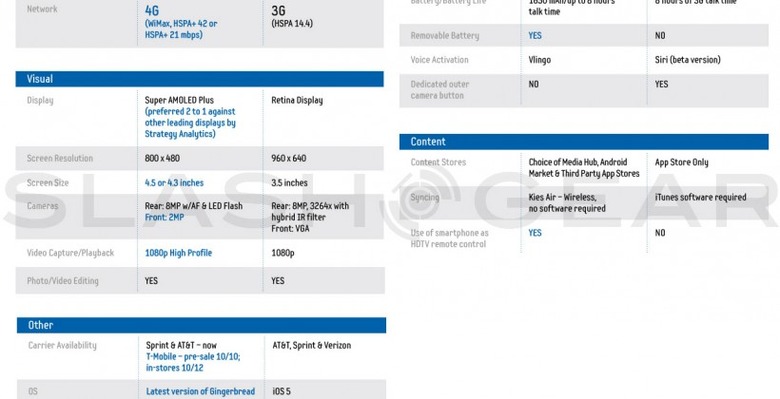 In a rather simply yet powerful gesture from Samsung, a graphic has been released with the headers Product Spec, Samsung Galaxy S II, and iPhone 4S which show a simple comparison between the two competing devices. This less than 24 hours after the first announcement of Apple's newest flagship smartphone. What we can see here is a truly comparable set of devices with what appears to be an Android winning out in the end – see that blue text? That's where the Galaxy S II is 1-upping the iPhone.
What Samsung wishes to make clear here is that more than a couple of points are in the lead for Samsung while the iPhone is perhaps lagging behind. What's not quite so clear is the fact that yes, the iPhone actually does have a few winning pointers here as well. The Samsung Galaxy S II works at 4G speeds – not just on one carrier too, on three (so far), while the iPhone connects only at 3G. The dual-core processors on these devices are appearing here to be evenly matched, save for the idea that the Galaxy S II has the option of either a 1.2 GHz or 1.5 GHz, (these of course showing up on different models on different carriers.)
One of the points where the Apple device is clearly the victor is in the screen resolution – its Retina Display having 960 x 640 pixels inside the relatively small 3.5-inch screen, while the Samsung device, regardless of its ultra-awesomely bright Super AMOLED Plus display, has just 800 x 480 pixel resolution inside both its 4.5 and 4.3-inch screens. Video capture is similar at 1080p with both new models, but Samsung boasts an extra "High Profile" spec that we know and love quite well.
A strange place Samsung takes the lead is the carrier availability, showing the iPhone to be at AT&T, Sprint, and Verizon all at once even though they're not on pre-sale yet, while Sprint & AT&T are shown for the GSII with T-Mobile on the way as a bonus. Perhaps the most clear place the Samsung Galaxy S II beats out the iPhone 4S is its pricing, with a $199-$229 range with unlimited memory (within reason) beating out the iPhone's $199-$399 range with limits on memory for all three models. Have a look at the full chart by tapping the gallery thumbnail above- and enjoy!