Samsung Quick Share AirDrop competitor has a weird quirk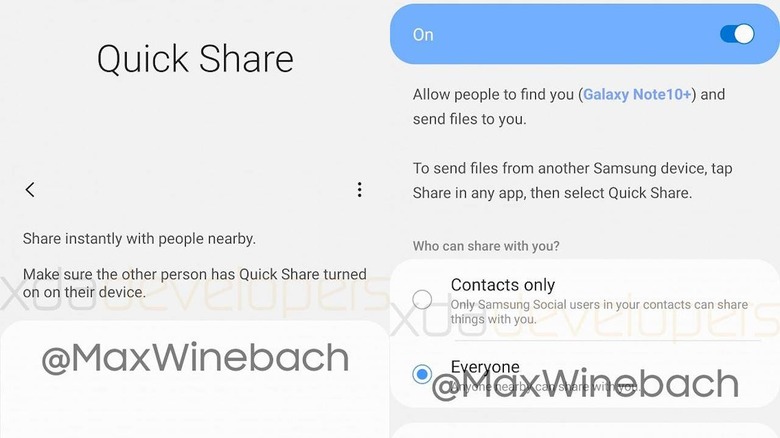 Android has been around for a long time and yet it still seems to have trouble easily and quickly sharing files with one another. Next to iMessage, Apple's AirDrop is one of the most coveted iOS features that Android users want on their phones. Now it seems that multiple Android partners, including Android maker Google itself, are working on their own perhaps incompatible solutions. Unsurprisingly, Samsung apparently has one as well and it might have an odd feature that no other has so far.
Samsung Quick Share, the name of this file-sharing feature, works only with Galaxy phones. That's not really surprising as most first-party implementations keep to themselves only. Just like Apple AirDrop, it can send files to nearby Galaxy devices, either only those on your contacts list or anyone you choose.
It does, however, have one additional mode that lets you send the same files to SmartThings devices, Samsung's IoT platform. It does this in a roundabout way, though, temporarily uploading the file to Samsung's cloud and then streaming it to, say, a smart TV. Because of that cloud-based workflow, that mode has certain restrictions, like a maximum 1 GB file size and a total of 2 GB sent per day.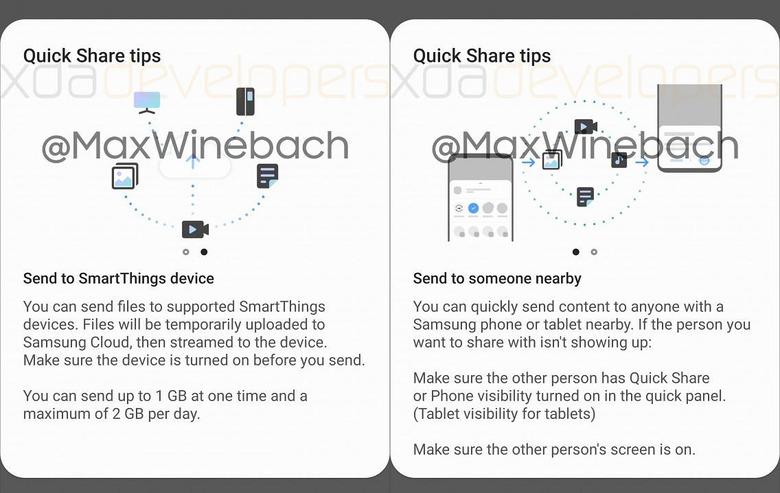 XDA got the APK from an owner of a Galaxy S20+ 5G, hinting it would launch together with the Galaxy S20 trio. Whether it trickles down to older Samsung devices really depends on the company, though it will most likely require an update to the same One UI 2.1 release.
Users of other phone brands may have a more generic solution once Google rolls out Nearby Sharing, formerly Fast Share. That, however, depends on whether the feature finally lands on Android 11. And for Samsung owners that are ineligible for the company's Quick Share, that also depends on whether Samsung will roll out that Android release to them at all.