Samsung Q1 and Q30 To Feature Solid State Flash Memory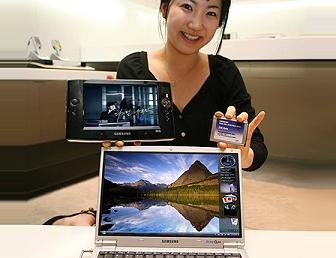 Samsung is planning to retrofit the Q1 and Q30 with a 32GB Solid State Disk (SSD).  Owners of these two fine new devices can expect faster boot up time – in fact 25% to 50% quicker than existing models.  The company touts read output of 53 MB/s and write speed of 28MB/s.  Another benefit of using SSD is a big reduction in heat and reduces the risk of the HDD breaking down.
I have the Samsung Q1 for some time now, and yet still trying to get a review out – it's coming very soon I promise.  But even a fancy SSD may not save the Q1 especially when the price is now a premium $2,644!
Samsung launches disk-free Q1/Q30 portables [CNET.co.uk, via Crunch Gear]