Samsung Portable SSD X5 can transfer a 20GB video in 12 seconds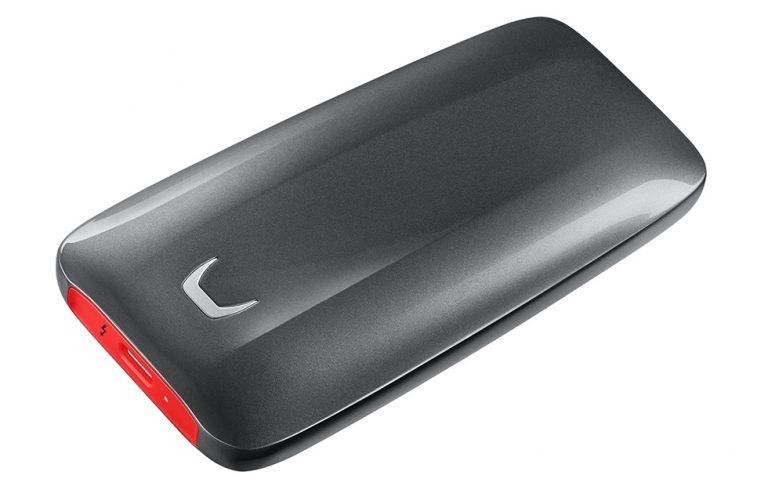 Samsung has launched a new external storage solution for individuals who need Thunderbolt 3 and a durable, compact form factor. Called the Samsung Portable SSD X5, this new model is relatively slim and sporty, offering up to 2TB of storage and fast transfer speeds for portable access to loads of data. Though there's a lot to like about this drive, it comes with a big price tag to match.
The new Portable SSD X5 is available in 500GB, 1TB, and 2TB capacities; this model is Samsung's first NVMe-based portable SSD. The model features Thunderbolt 3 40Gbps connectivity, as well as a slim size at 4.7 x 2.4 x 0.8-inches. The X5 is compatible with both PCs and Mac, assuming they have Thunderbolt 3 ports.
The rapid speeds offered by Thunderbolt 3 make the drive particularly suitable for creatives and other individuals frequently dealing with very large files, such as 4K videos. The X5 boasts read speeds up to 2,800MB/s and write speeds up to 2,300MB/s. At such rates, a 20GB 4K video can be transferred in 12 seconds, according to Samsung.
The drive is protected within a shock-resistant internal frame, which itself is encased within a metal housing. The shell has a glossy finish and a mat on the bottom to prevent slipping. The portable case also features a Dynamic Thermal Guard and a heat sink to keep the drive cool. With this case, the drive can handle drops from up to 6.6ft.
Samsung includes its Portable SSD Software with the drive, which uses AES 256-bit encryption; users can optimally set a password and adjust the security settings. Assuming something does go wrong with the drive, Samsung includes a three-year warranty with the X5.
The Samsung Portable SSD X5 will be available starting September 3 at $399.99 (500GB), $699.99 (1TB), and $1,399.99 (2TB).
SOURCE: BusinessWire