Samsung phone design patent shows iPhone X-esque notch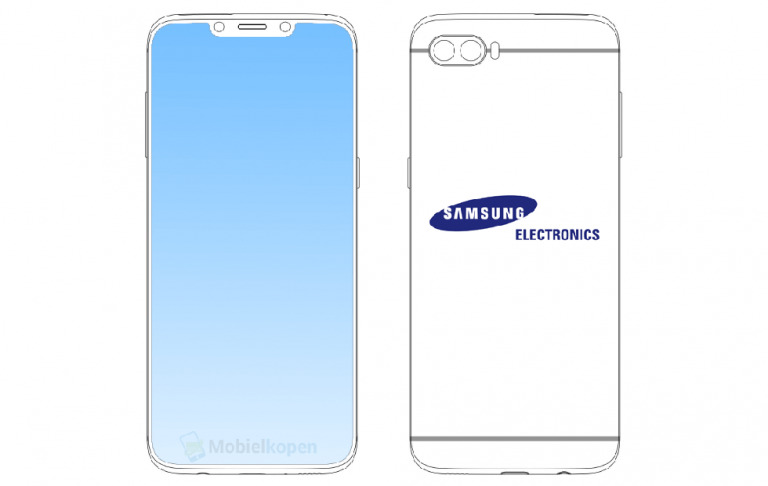 Samsung has patented a smartphone design that features a "notch" similar to the one popularized by the iPhone X. The controversial design element has appeared in a growing number of smartphones, and the patent hints that a Samsung model may one day be featured among them. The patent was filed with China's SIPO patent office late last month.READ: Why Android-toting iPhone X copycats are smart
The patent was recently spotted by Dutch website Mobielkopen. In it, we see illustrations of a Samsung phone sporting the same aspect ratio and rounded edges found on the latest Galaxy phones, but a different rear camera design and a notch in the display that leaves "ears" on either side.
The notch houses the ear speaker, the front-facing camera, and a third item which may be a light sensor. The patent describes the design as bezel-free, which is underscored by the illustrations. No fingerprint sensor is visible on the front or rear, indicating it may be in-display.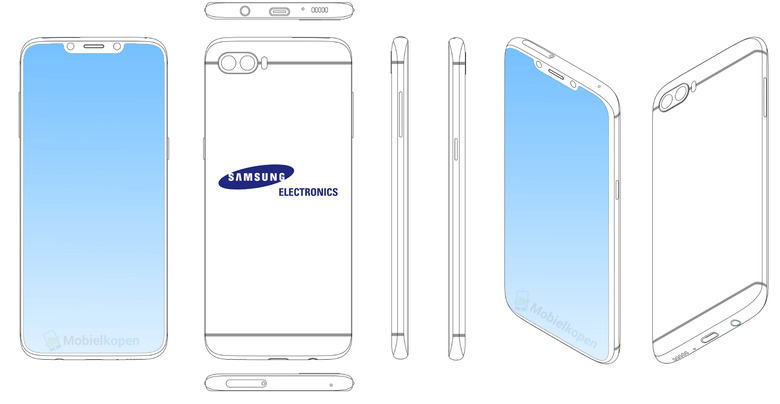 The notch featured in the Samsung patent is smaller than the notch found on the iPhone X, indicating that Samsung plans to pack less technology into it. Also of note is the rear camera, which features two lenses but in the upper left corner, a design similar to iPhones but atypical for a Samsung handset. A headphone jack is visible in the design, and the buttons/ports seem to follow the same layout as the Galaxy S8/S9.
That's only one potential design Samsung's working on, though. Another patent is similar, also bezel-free but lacking a notch. That design looks similar to the Galaxy Note handsets and features a typical centered, square rear (single lens) camera. As with any patent, it's possible we'll never see either design implemented into commercial products.