Samsung Pay apparently just turned one year old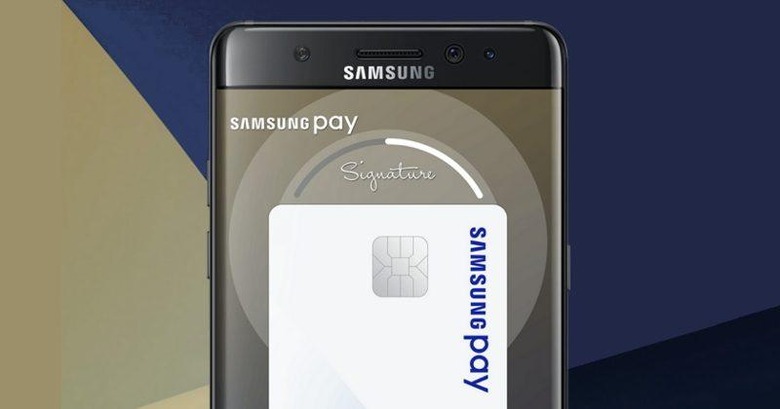 It definitely doesn't feel like it, especially for users in the US, but Samsung has just triumphantly announced that its mobile payment system, Samsung Pay, has just reached its first birthday. Of course, it was launched first in South Korea and took a few months before spreading out to other markets like the US. Within that time, Samsung boasts that it has already made nearly 100 million transactions in its seven current countries, which is no small feat considering who Samsung Pay is up against.
When you're a single brand trying to sell a service that is limited to a small number of devices, and your name isn't Apple, it is definitely an achievement to have stayed strong in the market as long as Samsung Pay so far has. Some might even argue that it has a bigger mobile payment presence than Android Pay, despite the latter's more encompassing coverage as far as smartphone models are concerned.
Samsung loves to sing about how Samsung Pay's simplicity, security, and ubiquity are the cornerstones of its success. The latter is particularly true thanks to its Magnetic Secure Transmission or MST that allows compatible devices, namely Samsung flagship smartphones from the Galaxy S6 and higher, to be used for mobile payment even on traditional magstrip terminals. That said, that very same MST has recently been demonstrated to actually be susceptible to spoofing and theft.
Nonetheless, with 440 bank partners in South Korea, the US, China, Spain, Singapore, Australia, Puerto Rico, and Brazil, Samsung Pay remains a force to reckon in the mobile payment market, perhaps the second biggest even. How long it stays that way, however, is only a matter of time, with more and more players trying to take a bite out of the still young and still lucrative pie.