Samsung outs R1, R3, R5 Wireless Audio 360 speakers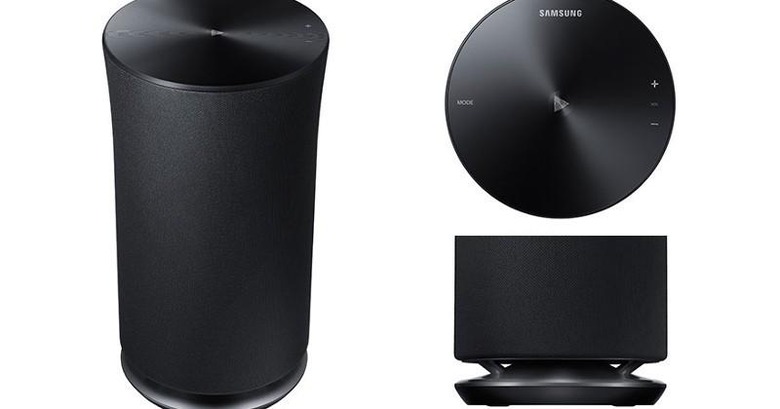 Piling on the pre-IFA 2015 announcements, Samsung has just revealed three new speakers that make up its Wireless Audio 360 family. No weird egg shape this time. The R1, R3, and R5 wireless speakers are plain but stylish, industrial-looking and practical. Not only do they blast your music in all directions, their now flat tops also transform into a user interface area where owners can tap and swipe to control their tunes. Plus, the speakers work well with Samsung's Multiroom experience, bringing music and life to any part of the house.
Unlike traditional speaker boxes, Samsung's Wireless Audio 360 audio equipment possess ring radiators that are able to push sound in all directions, hence the name. Unlike the Ring speakers announced late last year, the design of the R1, R3, and R5 are more conventional, with a basic cylindrical form and flat tops. This makes the speakers better suited to integrating with your house's ambiance.
That flat top, however, also serves another purpose. It is where the speakers' physical controls are located. You won't see buttons, however, but instead be greeted with very subtle, almost invisible, touch-sensitive areas that will let owners stop or play the music, change the volume, or select a different source, all with now familiar tap and swipe gestures.
Like with many wireless speakers these days, the three new speakers are designed to also work in concert with other speakers in a Multiroom setup. The speakers can not only be controlled from both Android and iOS devices using the new Multiroom app but also from smartwatches, like the Samsung Gear S and, without explicitly saying it, the upcoming Gear S2.
The Samsung R1, R3, and R5 Wireless Audio 360 speakers will be on display at IFA 2015 next week. Retail dates start sometime in the last quarter, with prices ranging from $199 to $399.
SOURCE: Samsung