Samsung outfits London Eye with Galaxy Tabs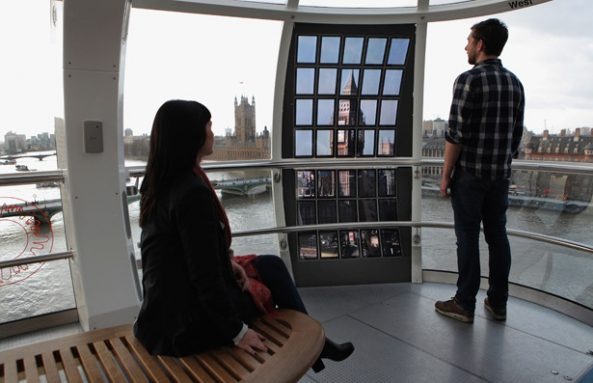 The London Eye is one of the most remarkable tourist attractions in the British capital city. It's a uniquely shaped observation tower filled with "capsules" that allow visitors to see all the major sights that London has to offer. It is one of the newest and most interesting tourist attractions in the city with its unparalleled 360-degree views and modern architecture. And now, it is getting a high-tech makeover courtesy of the Samsung Galaxy Tab.
You know how boring it is when you're up several hundred feet from the grouns and just looking at the view? EDF Energy, the organization that manages the London Eye, is outfitting all of its sightseeing capsules with Galaxy Tab tablets to let users interact with the landmarks they're looking at. This comes after months of research and thousands of visitor surveys to determine how to improve the overall guest experience.
"By doing this, [visitors] can access key information about 55 famous London landmarks, 24 hour time-lapse photography, 360 degree day and night views from the London Eye and bird's eye views of some of the key landmarks as well as a unique 'look inside' some of the structures for a unique perspective," the organization said in a statement. The London Eye, built in 2000, was already one of the most modern and high-tech tourist spots in Europe. The Galaxy Tab project, which is expected to be complete in May, further cements that designation.
[via SammyHub]