Samsung Omnia Pro with AMOLED & QWERTY tipped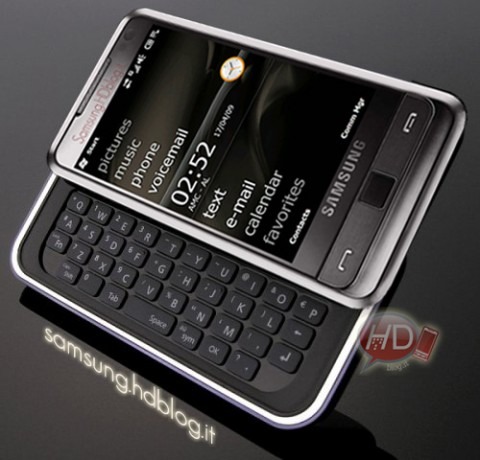 Samsung are preparing a QWERTY-blessed version of their Omnia Windows Mobile smartphone, according to hdblog.it, which like many other recent cellphones from the company will use an AMOLED touchscreen display.  The Samsung Omnia Pro, a mock-up of which is below, will have a 5-megapixel camera with flash, autofocus and an image stabilizer.
The AMOLED touchscreen is believed to run at WVGA 800 x 480 resolution, and measure 3.5-inches – that's slightly smaller than the 3.6-inch display on the HTC Touch Pro2.  As for the QWERTY keyboard, that would slide out horizontally, with Windows Mobile 6.1 flipping orientation to suit. 
Initially a WM6.1 device, the Omnia Pro would apparently be eligible to upgrade to Windows Mobile 6.5 as soon as the OS is released.  As for the CPU, that's the same 624MHz chip as in the original Omnia.  According to the rumors, the Samsung Omnia Pro will land "before the summer holidays" with July tipped as the most likely month, priced at around €500 ($658).
[via SlashPhone]