Samsung offers Protective Flip Cover bundle for Galaxy Note 2 and Galaxy S III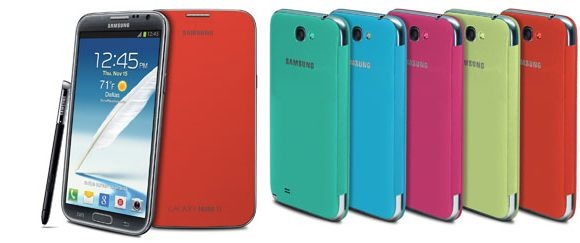 If you're the owner of the Samsung Galaxy Note II or the Samsung Galaxy S III devices, Samsung is offering a bundle you might be interested in for the holidays. The bundle adds multiple Protective Flip Cover colors in one package allowing users to change the looks of their device. The bundles offer multiple colors at a discounted price.
The Protective Flip Cover is available in seven colors for both Samsung Galaxy devices. The covers available including titanium gray, marble white, light blue, pink, mint, lime green, and orange. Samsung says these covers are perfect for people who want the smartphone the match their wardrobe.
The Protective Flip the Cover is a one-piece folding design that has a front cover and a glossy snap on back. The front cover is designed to protect the screen of the device while the snap on back prevents scratches and helps protect from drops and bumps. The covers also help prevent fingerprints and dirt from getting on the device.
The Protective Flip Covers are designed specifically for the Samsung smartphones to add little bulk. The Protective Flip Cover for the Note II sells for $39.99 each with a bundle of four different color covers for $99.99. For users who want less colors a bundle of two covers is available for $49.99. Flip covers for the S3 are available for the same price.