Samsung offers big discounts on, LN46B500, LN40B500, PN50B400 and more HDTVs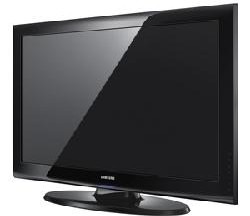 With the holidays upon us, it's time to start looking for those gifts for people on your shopping list. This is the time of year when many people start looking at big purchases like HDTVs. Part of the reason is that the prices on HDTVS at this time of year tend to be very appealing.
Samsung has announced that it will be offering discounted pricing on some of its most popular HDTVs. The Samsung 46-inch LN46B500 1080p HDTV with a 40,000:1 contrast ratio will be offered for $849.99. The Samsung 40-inch LN40B500 with the same features as the 46-inch version will sell for $599.99.
Those wanting a smaller screen will be able to get the 22-inch Samsung LN22B350 for $249.99 with 720p resolution and PC input. Plasma fans can get a 50-inch Samsung PN50B400 for $699.99 with a 600Hz subfield motion rate and a 2,000,000:1 dynamic contrast ratio. The 42-inch PN42B400 with the same specifications as the 50-inch version will sell for $549.99.