Samsung NX20 WiFi camera leaks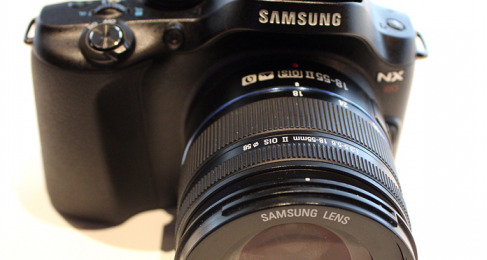 Just a couple of days ago Samsung and Panasonic both revealed that they were mulling the idea of a smart camera, able to run Android and integrate with social networks via WiFi connectivity. Now a leak from Dutch website Focus Media suggests that a Samsung made digital camera with WiFi is indeed on the horizon.
They managed to get their hands on a pre-production model of Samsung's NX20 camera and snapped a few pictures of it for good measure. They say that the design is similar to the NX11, although the body is slightly larger to give a better grip. Specs are said to include a 20.3 megapixel APS-C CMOS sensor, as well as ISO support from 100 all the way up to 12,800.
There's a 3-inch VGA AMOLED display on the back so you can see exactly what you're shooting. as well as 1080p video recording. There's also a burst shot mode, capable of taking eight photos per second. The key feature, though, is the WiFi connectivity, which will apparently allow you to upload photos directly from the camera to social networks, or to backup solutions.
No word on pricing or availability yet, although the camera is expected to get an official announcement from Samsung very soon.
[via SammyHub]