Samsung NX1000 WiFi camera now available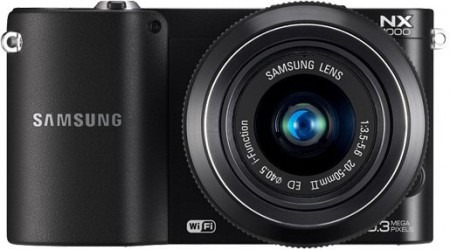 Back in April, Samsung had revealed three of its new WiFi-enabled digital cameras, and now the cheapest of of the three—the Samsung NX1000—is finally now available to purchase. The budget-friendly, entry-level kit is complete with professional image quality and WiFi connectivity through the dedicated Smart Link Hot Key on the top of the camera. Of the three WiFi models that will be available, the NX1000 is the least expensive and most compact mirrorless camera.
The NX1000 has a 20.3-megapixel APS-C CMOS sensor, ISO range of 100-12,800, high speed capture with fast autofocus, 1080p HD video recording, a 3-inch LCD display and Samsung's own unique i-Function lens. And with full manual control and a shutter speed of up to 1/4000 seconds, you'll be sure not to miss any of the moments you want to capture with a camera that's ideal for beginner photographers who need a little more than just a simple compact camera.
And get ready to scrap all those cables, since you'll be able to share photos on social media sites directly from the camera itself using WiFi connectivity. The NX1000 is now available at retailers in black, white and light pink for about $699 with the 20-50mm II lens.