Samsung NV11 - the digital camera for the traditionalist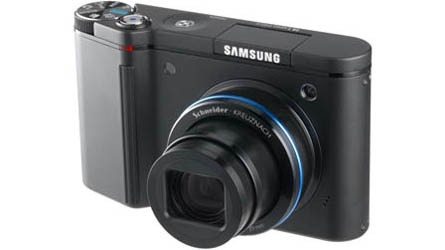 Are you, or someone you know afraid of losing the old Minolta or Pentax film camera they are holding onto? Well, chances are you won't be able to convince them to ditch them completely, film can still do some amazing things that digital can't, but this digital camera might make them feel familiar enough to start using digital.
It really looks almost exactly like the Pentax I have sitting on my desk, it has the mode selector wheel, the big, boxy body, and it looks like it even has the winder, albeit with a button on top of it, so its probably not functional, but it looks almost exactly the same. It has a 2.7-inch LCD on the back that is surrounded by 13 multi-mode buttons for navigating features, menu's, etc.
As far as raw stats go, it has 5x optical zoom brought to you by Joseph Schneider Optische Werke, and a 10.1MP still shot. With all the functions of the buttons, you can almost have as much control over your shot as with a DSLR, except for the whole lens changing thing. You can pick one of this up in the UK for £200.
Samsung NV11 [via T3]