Samsung Notebook 9 refresh is "impossibly light"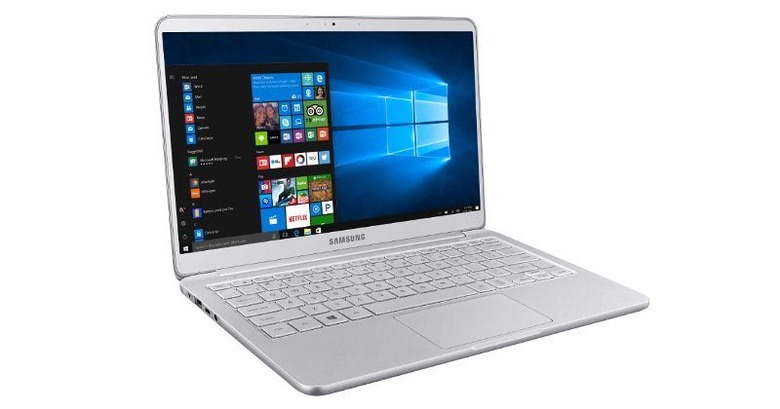 There have been quite a few interesting PCs introduced this year, from VR laptop backpacks to Lenovo's Yoga Book. Some users, however, just need a no fills, no nonsense, portable computers they can rely on without being bothered by fancy gimmicks. Samsung's new laptop from its Notebook 9 series might offer just that, with its promise of high end performance and specs. But best of all for the mobile worker, the new Notebook 9 boasts of a weight that Samsung claims to be the smallest among its peers.
That's 1.8 lbs, at least for the 13.3-inch configuration. The larger 15-inc model goes for 2.17 lbs, which isn't really that much of an additional burden. The lightweight nature of the laptops is also hinted by the almost edge-to-edge display that makes the screen look as if it were floating.
In contrast to its design, the Samsung Notebook 9 is a heavyweight in specs. It uses 7th gen "Skylake" Intel Core processors, from i3 to i7 on the 13.3-inch model and i7 only on the 15-inch version. Both support DDR4 RAM, up to 8 GB or 16 GB for the Core i7 13.3-inch configuration. Storage, however, is a bit disappointing, having only room for up to 256 GB SSD. Both model's resolutions are nothing to write home about either, maxing out at 1920x1080 Full HD.
The new Samsung Notebook 9 does have some arguably fancy features. One is the ability to lay the notebook flat, unfolding it at 180 degrees. Samsung says it's useful for collaborating with colleagues or demonstrating with clients, but the lack of touch capabilities could make it an awkward setup. There's also a USB-C port that can also be used to charge the laptop with a capable power bank. But don't worry, there are also full-sized USB 3.0 ports around.
Samsung hasn't yet disclosed availability details for the Notebook 9, including pricing. CES 2017, however, is just a few weeks away, so we're sure to hear more by then.
SOURCE: Samsung