Samsung NB30 rugged N450 netbook up for sale in UK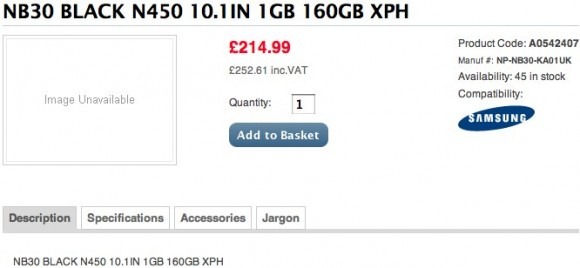 Samsung's ruggedized NB30 netbook looks close to launch, with two UK retailers listing the 10.1-inch Pine Trail based machine as in stock.  Announced back in early January, just after Intel made their Pine Trail Atom chips official, the NB30 has a 1.66GHz N450 processor, 1GB of RAM and a 160GB hard-drive.
MacWarehouse are listing the NB30 for £252.61 (including tax; $390), while MicroWarehouse have it listed for £247.56 (including tax; $383).  OS is Windows XP Home.  The NB30 promises up to 11hrs of runtime from a single charge, as well as an HDD freefall sensor, water-tight seals to prevent leak ingress (if removed from the water within 10 seconds) and a mark/scratch-resistant shell.
Samsung originally announced that the NB30 would arrive in early January 2010, though they seem to have slightly missed that mark.  There's also been some talk of a touchscreen variant of the netbook, though that doesn't appear to get a mention in the partial specs listed by each e-store.
[via Samsung Netbook Community]