Samsung Nabee Wireless System Replaces Camera's USB Cable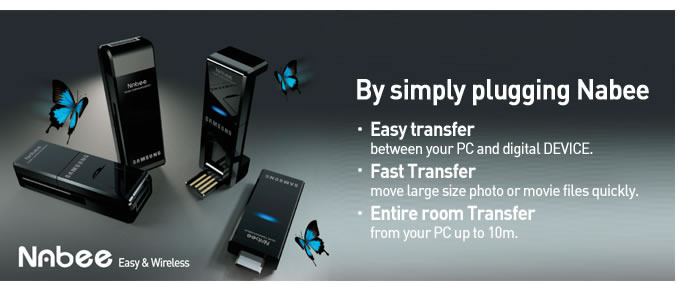 Samsung have unveiled a straightforward way to add wireless image transfer to cameras without it.  The Nabee system uses a pair of dongles – one USB, that plugs into your PC, and another that plugs into the camera's USB port – that can then emulate a standard USB cable for high-speed transfers up to 10m apart.
Networking is courtesy of Alereon's AL5000 wireless USB chipset, which can use the six bands spanning the 3.1 to 10.6 GHz frequencies.  The Nabee is similar in concept to the Eye-Fi WiFi SD card, but is obviously suitable for cameras that use memory cards other than SD and also allows users to pick bigger capacity than the 1GB Eye-Fi offers.
No pricing details for the Nabee have been revealed.  Samsung expect it to be available from December 2008
[via Gizmodo]