Samsung, Motorola midrange refresh spotted in benchmarks
A lot of attention is paid to flagship devices, but those with the most impact on end-users are often mid-range. Last year, both Motorola and Samsung focussed on the mid-range segment, as well as its ability to make an impact in emerging markets like India. Two new devices, one from each of those two companies, has been spotted in benchmark testing. Though unnamed, it seems as though both Motorola and Samsung are following up on their mid-range success last year.
Via GFXBench, we see the Samsung Galaxy Grand may be getting a fresh iteration. Sporting a 5.5-inch screen, the device tested also has a 1.2GHz quad-core processor and 1.5GB RAM. An Adreno 306 GPU is also included, along with a 13MP rear camera and 5MP front-facing shooter. There is 12GB memory as well.

Motorola also has a mysterious new device in testing, which popped up in GFXBench. The device has a Snapdragon 410 at 1.2GHz, 1GB RAM, and is running Android KitKat. There's not much to know aside from that, but it sure sounds like a Moto G or Moto E refresh so far.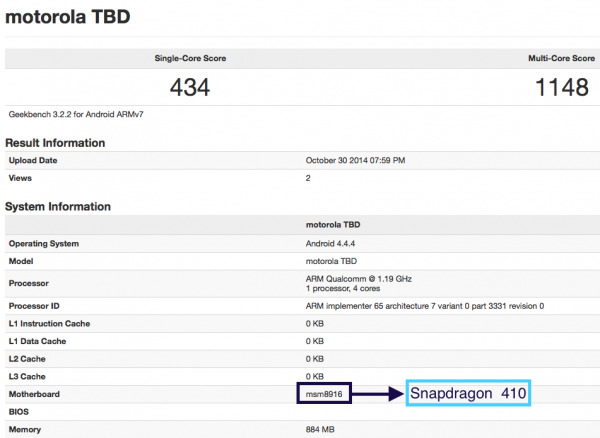 Neither of these devices will blow you away, but they're not meant to. Both have their focus in emerging markets, where both companies made a sizable impact last year. It will be interesting to see if these are somehow new categories from either (or both) company, or just the next in a succession of their existing lineup.
Via: Android Community, Ubergizmo