Samsung Monte S5620 gets official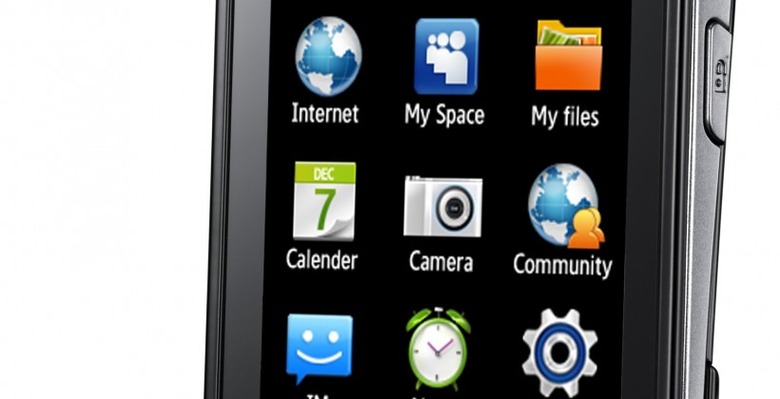 We may receive a commission on purchases made from links.
A little over a week since we saw it leak into the wild, the Samsung Monte S5620 has been officially launched.  A 3-inch capacitive touchscreen featurephone, the Monte S5620 packs UMTS/HSDPA (900/2100, 3.6Mbps) along with quadband GSM, WiFi, A-GPS and Bluetooth 2.1.  The Monte also has a 3.2-megapixel camera with smile-shot and face detection.
While the Monte isn't a smartphone – in fact it runs Samsung's own TouchWiz 2.0 Plus platform – Samsung reckon it has much of the functionality of one.  They're particularly proud of the handset's browsing abilities, which support full HTML and both landscape and portrait modes, and its social networking: there are Facebook and MySpace apps, as well as Twitter and Bebo widgets and a multi-platform IM client.
You also get Exchange ActiveSync support, an FM radio with RDS and Google Maps 3.0.  Memory is 200MB internal with a microSD slot (up to 16GB cards supported) and the 1,000mAh battery is rated for up to 298 minutes 3G talktime or 454hrs 3G standby.
No word on how much the Samsung Monte will cost, nor which markets it will ship in, but the company apparently plan to have it at Mobile World Congress 2010 next week.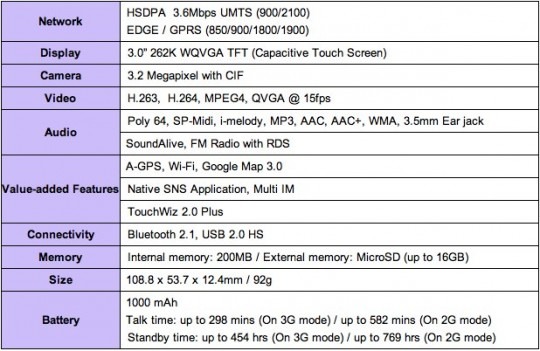 Press Release:
Samsung Launches Monte, the Perfect Fit for Full Touch Lifestyle

Samsung Monte offers enhanced full touch functionality, social network integration & sleek design

SEOUL, Korea – February 9, 2010– Samsung Electronics Co. Ltd., a leading mobile phone provider, today announced the launch of Samsung Monte(model: S5620), its new full touch screen device for style-conscious mobile users.

The handset is launched with a host of multimedia features and a sleek, organic design with a sophisticated and glossy look, providing the style and performance of a high-end handset at affordable price. With a stunning design and an intuitive TouchWiz 2.0 Plus User Interface (UI), the Monte is set to become the latest must-have full touch device.

Equally, the Samsung Monte has a lot to offer to the social network savvy consumer with a suite of native social networking applications including Facebook and MySpace, allowing users to access their profiles whenever and wherever they choose. This is teamed with advanced Twitter and Bebo widgets – and multi-IM capability – to provide users with the opportunity to chat in real-time via their chosen service. In addition, Monte users can enjoy full Internet browsing, with an accelerometer sensor allowing the onscreen image to automatically adjust as you rotate the phone.

To become the perfect accompaniment to a connected lifestyle, the Monte includes GPS supported by Google Latitude™, ensuring you know where you are – and can keep your friends updated on your location – at all times. This combines with Geo-tagging, allowing users to imprint their photos with geographic tags to share their travels and experiences with friends. Other connectivity features include optional anytime, anywhere Wi-Fi connectivity, Exchange ActiveSync for access to Outlook email accounts, and Google Sync™. This allows users to simultaneously update their social networks schedules and Outlook calendar, without the hassle of accessing each application individually.

"Samsung Monte is designed for those who appreciate beautiful design and outstanding performance at affordable price," said JK Shin, president and head of Mobile Communications Business, Samsung Electronics. "The phone offers a compelling set of features, such as the native social networking applications, with an intelligent User Interface, design and connectivity options to provide users with the performance they demand."

To showcase this feature rich and stylish handset, the Monte comes equipped with a 3.0-inch WQVGA LCD screen with 16:9 landscape viewing. It also boasts a 3.2-megapixel camera with many value-added features including smile shot, panorama shot, and face detection. For convenience, the phone also supports Smart Unlock and One finger zoom.