Samsung Max gives Opera's smartest browser an encore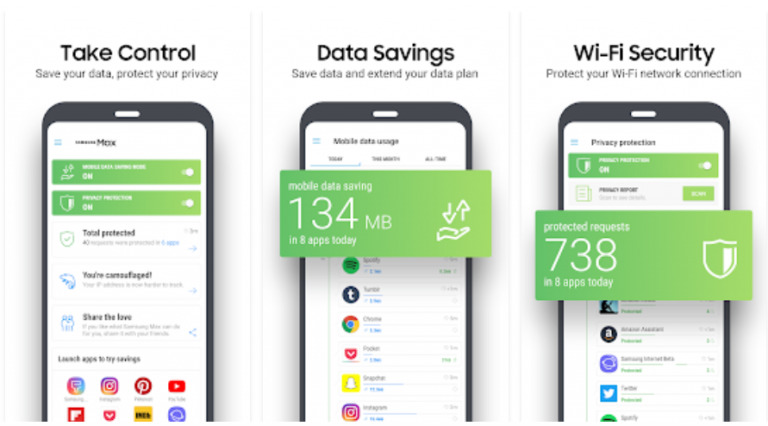 Up until August of last year, Opera offered a data-saving browser for Android called Opera Max. Over time, Opera Max began to focus on security as well, making it into a handy little browser to have on your device. Unfortunately, Opera announced that it would be shutting down Opera Max as it "had a substantially different value proposition," than its other browsers, but today it's getting a second chance at life thanks to Samsung.
Samsung has revealed that it's taking over the duties on Opera Max, giving it a new name in the process. The new browser will unsurprisingly be named Samsung Max, letting you know that while the company maintaining it may have changed, the mission of this browser is staying the same.
As with Opera Max, there are two main areas of focus in Samsung Max: saving data and protecting privacy. When in Data Saving Mode, Samsung Max will tell you which applications are using the most data, and it can compress images, videos, and webpages automatically to stem heavy data usage. You can also have Samsung Max block background data usage by other apps, so if you're dealing with a runaway data problem, Samsung Max might be a good way to get it under control.
Data Saving Mode is also paired with Privacy Protection Mode, which attempts to secure open WiFi connections. It does this by offering "one-tap encryption, tracker blocking, and DNS masking," across both WiFi and mobile, so it can help keep your device secure when you're connecting to unprotected networks.
Opera Max will make the switch to Samsung Max today, and while Samsung plans to pre-load it on phones like the Galaxy A and Galaxy J in emerging markets, everyone using a different Samsung device will be able to download it from the Google Play Store [download] or the Galaxy App Store. Unfortunately, those of you using a non-Samsung device are going to be locked out of the browser after the switch has been made, but Samsung seems to suggest that will change in the future. Sit tight, and we'll see if Samsung makes this available on phones from different manufacturers soon.