Samsung mass producing 40nm-class 8GB DDR3 module for laptops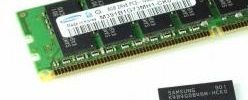 We may receive a commission on purchases made from links.
Samsung has announced that it is now mass-producing 40nm-class 8GB DDR3 RAM modules for notebooks. The new RAM is in the form of SoDIMM modules and is being made in UDIMM modules as well. The high-density chips are aimed at the workstation market for CAD/CAM engineers and other pros that need lots of RAM.
Samsung is shipping configurations of 8GB reached with 1G x 64 configuration. The first machine on the market to use the new RAM chips is the 17-inch Dell Precision M6500 mobile workstation. The workstation has 32GB of the Samsung RAM with four 8GB SoDIMMs.
Samsung says that the new RAM is also greener than using older RAM in the workstations as well. The 8GB DDR3 memory needs 53% less power than a pair of 4GB DDR3 modules. The need for less power in a notebook generally equates to less heat produced and longer battery life.