Samsung intro compact HT-BD2S Blu-ray home cinema system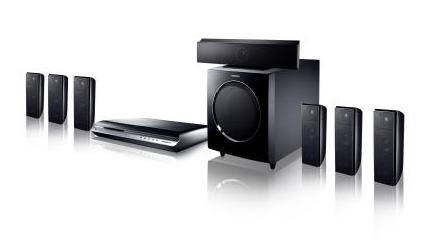 Samsung have announced a new, more compact Blu-ray home cinema system to accompany their existing HT-BD2T setup.  The HT-BD2S uses smaller satellite speakers and has a accompanying smaller price: $1,000.  What's the same is the central box, complete with its 7.1 channel, 1,100 W output.
Intended to be an easy option for newcomers to Blu-ray, the system seems to work best as a standalone setup rather than something that might integrate with other components.  Inputs are limited to two optical digital ports, giving little room for expansion.  However, that'll only be an issue if you want something other than the HT-BD2S' Blu-ray, DVD, CD and MP3 CD playback, and its FM radio.
Outputs include HDMI, component video, S-Video, composite video, 7.1 channel audio and ethernet.  All the major high-definition standards are supported - 720p, 1080i and 1080p – but only the older Profile 1.0 specification which means many of the interactive or online features of the latest Blu-ray discs won't work.  The HT-BD2S is available now.
[via Crave]