Samsung Illusion For Verizon Photo Leaks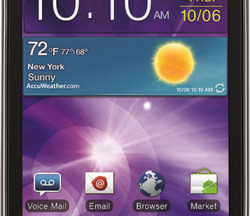 Samsung accidentally leaked a photo for one of its upcoming Android smartphones for Verizon. The device is called the Samsung Illusion and it's very much a reality now that the company inadvertently posted a public preview of the device via Flickr, but then quickly set the image to private.
The Samsung Illusion has been rumored before as the Samsung Viper with the SCH-I110 model number. It's more of a mid-range 3G handset, featuring either an 800MHz or 1GHz processor with a three- or five-megapixel camera, and a 320 x 480 pixel resolution screen. The device will run the latest TouchWiz on top of Android 2.3 Gingerbread.
Most of the details on the handset have not been confirmed except that it will be a eco-friendly device with a Sustainable Product Certification. It is expected to arrive on Verizon around September 29, priced at $100 or less with a new two-year contract.
[via CNET]