Samsung I7110 Hands-On Finds Fast Phone, Great Display, Serious Nokia Threat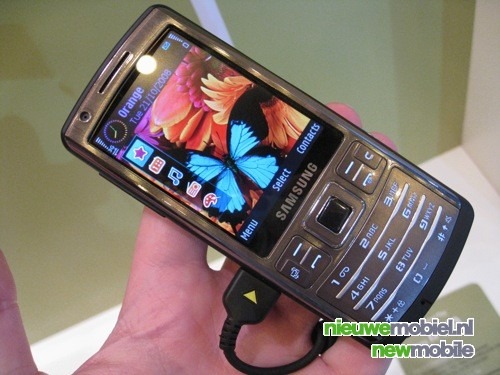 The Samsung I7110, announced yesterday, has been prowling around the London Smartphone Show this week, and Martijn from Nieuwemobiel grabbed some hands-on time with this S60 Nokia-rival.  From the sound of it, the Finns could have some serious competition on their hands: the I7110 is reportedly fast and responsive, with the 2.6-inch AMOLED display bright and color-rich while the optical mouse works well.
Update: Hands-on Samsung I7110 video after the cut
Martijn also saved some praise for the I7110's web browser; it's uncertain how – if at all – Samsung have changed the standard S60 3rd Edition, Feature Pack 2 browser, or whether they've chosen a third-party app instead.  Alternatively it could just be the smartphone's responsiveness that makes it a pleasure to use.
The I7110 includes both 3G HSDPA (900/2100MHz) and quadband GSM/EDGE, together with WiFi, Bluetooth 2.0 and GPS.  There's also a 5-megapixel camera with autofocus, smile-shot, blink-shot and an LED flash.  It will launch first in Russia in November 2008 with further availability following that; pricing currently unknown.
Update: Staska at Unwired View got some video footage of the I7110: